January 4, 2018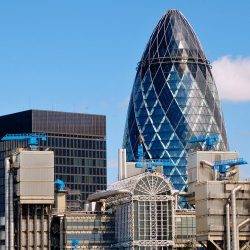 A new study from commercial property advisors Savoy Stewart based on UK government data claims that demand for office space in Central London has continued to grow at a steady rate for a number of years, but that the trend is not always matched elsewhere in the UK, including for areas on the outskirts of the capital. The report, based on an analysis of data from the Valuation Office Agency, covers the period from 2000 to 2016. It found that the total floorspace of 21,092,000 square metres in Central London accounts for nearly one quarter of the total office floorspace in England and Wales (89,037,000 square metres) and more than twice the total floorspace of the top 10 office hotspots outside London combined.
However, Savoy Stewart also claims that while office occupancy in inner London has been growing at a steady rate, the trend has been negative in the outer London boroughs. From 2006-07 to 2015-16, take up of office floorspace in inner London grew from 19,264,000 square metres to 21,092,000 square metres, an increase of 8.53 percent.
By contrast, outer London experienced a steady decrease in office occupancy. From 2014-15 to 2015-16, it lost as much as 94,000 square metres or 1.82 percent. From 2006-07 to 2015-16, office floorspace in outer London fell by 441,000 square metres or 8.02 percent.
Within London, the City of London (14.49 percent) grew at the fastest rate, followed by Tower Hamlets at 11.47 percent and Camden at 9.39 percent. Despite that, Westminster remains the most popular office location in inner London.
The report claims that most outer London boroughs experienced a decrease in office floorspace. The trend was particularly dramatic in Croydon where office floorspace has fallen by 14.05 percent since 2006-07.
Darren Best from Savoy Stewart commented: "The statistics may not show the whole picture but they reveal a lot about the commercial property market in England and Wales, and in particular the office sector. We have witnessed major changes in the last decade including the rise of office alternatives to inner London which has become too expensive for a growing number of businesses.
However, results from the analysis of official statistics also reveal that while most office hotspots had their ups and downs over the past decade, office floorspace in inner London was growing at a steady pace. This suggests that despite the premium cost, inner London hasn't lost its appeal to businesses looking for swanky modern offices. On the contrary, it is becoming an even more attractive office destination than ever before."