January 20, 2020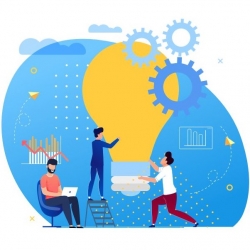 Over the past decade, we've witnessed a radical change in the makeup of workforces in the UK and globally. The rise of flexible workforces continues unabated, to the point where contingent workers are a significant and vital part of the employment fabric. Demonstrating this point, recent research by the City & Guilds Group found that 84 percent of UK employers use contingent workers, and 35 percent anticipate they will rely on them more in the next 3-5 years.
As it stands, there are a lot of misconceptions that contingent workers are having a negative impact on the organisations they work for and about the levels of job satisfaction experienced by this group.
The most widely held misconception about the contingent workforce is that this group desires separation from the full-time workforce and the isolation that comes with it. In fact, most contingent workers value social interaction, peer approval and recognition as much as full-time workers, while seeking flexibility, rather than complete autonomy. This flexible, free-floating workforce is outside full-time work by desire rather than necessity.
Contingent workers bring multi-faceted experiences from a diverse array of employers, with advanced skills and acumens from an outsider's perspective. Progressive organisations are beginning to compete to become an 'employer of choice' for this workforce.
The evidence for the rise of the contingent workforce is abundant. The US has a high employee turnover rate of almost 18 percent a year, and Britain has a national average employee turnover rate of 15 percent a year with 3 million people working in the 'gig economy' in the last 12 months. 60 percent of those born between the mid-1990s and early 2000s do not anticipate remaining in the same job for more than two years. Businesses are increasingly competing for this new workforce with some large enterprises spending 30 percent of their labour budget on contingent workers. They account for more than one in five workers at over half of US and UK enterprises. The most successful companies in the future will be those that can become the employer of choice for the most talented contingent workers.
Unlocking the value of contingent workforces
The integration of contingent workers can directly influence a company's productivity
Organisations can address the issues of contingent worker appreciation and integration, while maximising their productivity and providing them with job satisfaction. Advocates for integrating contingent workforces have built employer brands focused on positive daily work experiences of all employees – from flexible to full-time workers. Adopting this approach instantly makes contingent workers feel more valued and part of an organisation, while increasing job satisfaction and unlocking employee value.
The integration of contingent workers can directly influence a company's productivity. With increasing competition over talent between organisations, to become an 'employer of choice' companies need to reposition how they appeal to this flexible work-force. The strategy of treating contingent workers as part of the team not only allows employees to feel included socially by their peers, but also allows organisations to recognise their value. This increases both job satisfaction and overall productivity. Inclusive treatment, then is the key to accessing the right types of contingent workers in a competitive 'gig economy'.
Knowledge-based organisations in particular are under pressure to be consistently innovative.  These industries are more likely to benefit from the mindset of contingent workers, who bring fresh ideas and improve the talent pool, and must therefore work to retain them. Research has shown that the right employer branding strategy can also improve contingent work-quality by up to 69 percent. Early treatment of contingent workers becomes crucial for maintaining a higher caliber of people in this case. The most innovative organisations are increasingly focused on individual performance, enabling contingent workers to receive remote peer recognition for their efforts.
Tomorrow's HR policies look toward freedom and flexibility
In order to appeal to contingent workers, employers must also redesign their HR policies and initiatives around freedom and flexibility. As more organisations realise that contingent workers value and desire social interaction, peer approval and recognition, we're likely going to see increased efforts to address this issue in order to attract the best talent and become employer of choice. The future of employer branding for contingent workers will depend on businesses who have gauged a deeper understanding of employees. Smart organisations are making efforts to address this issue now.