July 20, 2021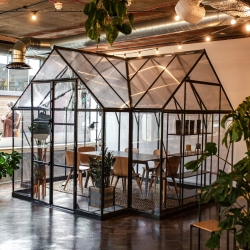 Access to workplace counsellors, mental health training and support groups are topping the charts on what workers want on their return to the office, according to new research by CERT Property.
As the nation starts to lift all lockdown restrictions, survey findings claim that 69 percent of us believe buildings need to evolve to support a post-pandemic workforce. Interestingly, the survey suggests it was not physical facilities but, instead, mental health support that was top of the wish list.
While working from home brought with it a series of distractions – top of the list was housework (37 percent) – the slower pace and at-home environment helped many people's stress levels.
However despite this, 35 percent of those surveyed felt their mental health got worse during the pandemic, with almost a quarter (24 percent) saying that they would have liked more support from their employer during the various lockdowns.
Workplace support
As the country prepares to return to a version of pre-pandemic life, workers are calling on their employers to now step up their mental health support as we head back to our desks. Around 31 percent would like access to therapists in the workplace, while a third (30 percent) also want more training on mental health issues, so they can support themselves and their colleagues. Nearly a quarter (23 percent) also agreed that mental health support groups in the workplace would be a positive step forward.
To meet these evolved needs, workplaces will have to be reimagined, according to Howard Lord, founder of CERT Property, which has focused on creating 'post-pandemic-friendly' workspaces with health and wellbeing at their core – including at its newly renovated Hilton House and Duke & Parr sites.
"You can see from our survey that what is expected of workspaces – and, indeed, employers – has changed forever," says Howard. "The offices of old are gone. The office now needs to be a destination and employees are looking to return to nurturing and inspiring spaces that enable collaboration."
Around 42 percent of those surveyed said that they feel more stressed in the office, as opposed to working at home, so this imbalance should be addressed now that so many workers are getting back to their desks. The survey also claims that despite 77 percent of employees enjoying working from home, only 12 percent would opt to do so five days a week.
"If you bring people together to interact, whether virtually or physically a community will thrive, the people in it will thrive and they will help businesses thrive too."  
From an emotional point of view, being away from the workplace was shown to cause 29 percent of respondents to experience a lack of motivation, and 27 percent confessed that they struggled with loneliness.
People are also excited about socialising with colleagues again. Interestingly, the survey highlighted it was men who missed their workmates the most, with 56 percent saying they were looking forward to seeing their colleagues again, compared to 49 percent of women. These were just a few of the obvious factors luring workers back, with 45 percent saying they would prefer to be in the office.
Howard added: "It is no wonder workers are missing the in-person connectivity and collaboration, never mind the social element of office life. At CERT we have always been passionate about creating environments that are not simply a place to live or work – instead, our vision is to build communities, bringing like-minded people and businesses together.
"We focus on the people aspect of places, if you bring people together to interact, whether virtually or physically a community will thrive, the people in it will thrive and they will help businesses thrive too. While people clearly still want the benefit of having a dedicated place to focus on work, they also expect to be able to find a better work/life balance with more flexibility than before."
"Our mental health is more precious than it's ever been and these findings are absolutely no surprise, especially when it comes to employers needing to step up their efforts to look after their staff wellbeing."
Image:CERT Property