March 1, 2023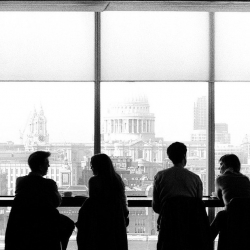 Following the 'hiring frenzy' of the pandemic, recruitment strategies are focused on total value creation by empowering their teams to learn, grow and be ready for any contingency, according to the 2023 Talent Trends Report from Randstad. The poll of over 900 C-suite and HR leaders in 18 markets focussed on their talent and career development priorities for the year ahead. Now in its 8th year, this year's report claims that despite an uncertain economic environment, business leaders are focused on driving long-term value and business impact by increasing talent engagement, satisfaction, productivity, and retention, following the 'hiring frenzy' of the last two years. 
This year, nearly twice as many  respondents (77 percent) say their talent acquisition strategies are more about total value creation for the company than achieving cost savings – compared to 45 percent of respondents in the 2022 edition of the Talent Trends Report. Moreover, 80 percent of leaders say the goal of their company's talent strategy is to have a measurable impact on business performance, the highest level since before the pandemic, representing a shift in thinking to business value. This year, 77 percent of organisational leaders also say they recognise the importance of workforce agility, an increase of 11 points over 2022.
The report suggests that acquiring the right talent is still challenging. Nearly half of all respondents (42 percent) say talent scarcity remains one of their biggest pain points or is having a negative impact on their business – the highest number in the history of the Talent Trends Report.
Given ongoing talent shortages, especially for those with high-demand skills, many companies seek to re-train existing resources to move into those crucial roles. More than three-quarters (76 percent) of leaders are increasing their focus on skilling and career engagement, while 56 percent plan to increase spending on internal talent mobility platforms.
HR's return on investment
All of these factors point to another key trend: the need for businesses to differentiate by delivering an outstanding talent experience, spanning initial attraction and engagement, hiring, development, internal mobility, career transition and retirement.
Overall, 81 percent say their organizations are more focused on the talent experience and are investing in several areas to improve how they attract and retain talent. These include making diversity, equity, and inclusion (DEI) a central part of their talent strategy as cited by 74 percent of respondents, using technology to improve engagement (72 percent), creating talent communities and content plans to engage and nurture future talent (71 percent) or conducting internal audits to map the candidate experience (69 percent).
The report also claims that technology is a 'recognized enabler', although it is not a primary focus. Companies that prioritise their employees above all else are experiencing the greatest success in large HR tech initiatives, it suggests. According to industry expert Josh Bersin, the employee experience has taken centre stage as the core of human capital systems, recognising its significance in the enterprise talent strategy. Bersin states, "Every company should have the talent experience at the forefront of their talent strategy. This is the most impactful way to differentiate themselves in the highly competitive market for specialized skills."
Main findings:
More C-suite and HR leaders believe their talent strategies are becoming more aligned with business strategies through enhanced value creation, impact, and agility.
80 percent say the purpose of their talent strategy is to make a measurable impact on the business.
77 percent agree that talent acquisition is more about value creation than cost savings, an increase of 32 points since 2022.
77 percent say their strategy is more focused on agility, 11 points higher than last year.
The challenge of finding critical talent hasn't gone away, with 42 percent of respondents – the highest percentage ever in a Talent Trends Report — saying talent scarcity remains one of their biggest pain points.
To help overcome talent scarcity, 76 percent of respondents plan to focus more on skilling and career development, while 56 percent plan to increase their spending on internal talent mobility platforms.
82 percent report talent acquisition is changing, and they're now expected to think about mobility, development, career pathways, and skilling in addition to recruitment.
Recognizing the importance of a highly positive talent journey in attracting and retaining talent, the vast majority of leaders (81 percent) continue to be more focused on the talent experience than other competing priorities.