February 19, 2018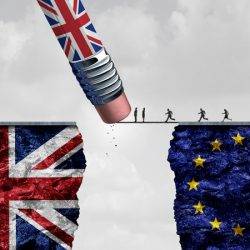 Demand for labour is likely to remain relatively strong in the near-term which is one of the main reasons why employers support a national approach to tackling the UK's skill and labour shortages post-Brexit, in comparison with a regional or sectoral one. According to the latest quarterly Labour Market Outlook from the CIPD and The Adecco Group the preference for a national labour or skills shortage occupation scheme reflects the main reason given by organisations for employing EU nationals, which is that they have difficulty finding local applicants to fill lower skilled roles, as cited by 18 percent of employers. The national survey of more than 2,000 employers found that the relative majority of employers (41 percent) would prefer a UK-wide immigration system that is based on national labour or skill shortage occupations in the likely event of migration restrictions once the UK leaves the European Union. In contrast, around one in ten (13 percent) favour a sector-based policy and just 5 percent would back a regional policy.
Gerwyn Davies,Senior Labour Market Adviser for the CIPD, the professional body for HR and people development, said: "The Government's continued rhetoric of an immigration system that only works to attract "'the brightest and the best' simply doesn't tally with what employers want or the economy needs.
"Employers have expressed concern over preferential arrangements being made for certain sectors and regions as well as the additional cost and complexity such a system would cause. A post-Brexit immigration system based on a national skills or labour shortage occupation list is the most straightforward scheme to implement and would avoid penalising employers who have no alternative to recruiting EU nationals for what are thought of as low-skilled roles."
The survey also clearly shows that organisations that employ EU nationals are significantly more likely than employers that don't recruit EU nationals to be investing in training. Organisations that employ EU nationals are much more likely to have a training budget (84 percent) than those who don't (45 percent). Findings also indicate that organisations that employ EU migrants are typically doing so as part of wider efforts to invest in skills and talent and to find the labour they require, not because they are looking to cut costs or are failing to invest in UK-born workers.
When asked about how they might respond to future migration restrictions on EU workers, the most common response cited by more than a quarter (27 percent) of employers is to continue to recruit EU nationals where possible, including a third (30 percent) of public sector organisations.
Davies continued: "The data shows that it's highly questionable whether future migration restrictions on EU nationals will act as a catalyst for improving skills investment in the UK. To kick-start greater investment in skills across the economy as the UK prepares to leave the EU, the Government should urgently review the Apprenticeship Levy and make it much more flexible to employers' skills requirements."
The Labour Market Outlook also explores employers' hiring and pay intentions. It suggests that employers demand for labour is likely to remain relatively strong in the near-term. This quarter's net employment balance – which measures the difference between the proportion of employers who expect to increase staff levels and those who expect to decrease staff levels – has fallen to +16 from +18 in Autumn 2017, but this is still above the survey's historical average.
The survey data also indicates that the strong demand for labour has led to a tightening labour market and an increase in recruitment difficulties over the last year. Among employers who have vacancies, the share that report hard-to-fill vacancies has increased from 56 percent in Spring 2017 to almost two thirds (64 percent) in this latest report (Winter 2017). The challenge is being felt most acutely in healthcare where three-quarters (76 percent) of employers are reporting hard-to-fill vacancies.
Despite the tightening of the labour market, the survey suggests there is still only very limited pressure on employers to increase pay in the next year. The median basic pay increase expected over the twelve months to November 2018 is 2 percent.