March 7, 2018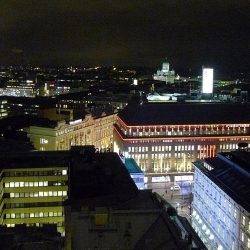 Research released by Knight Frank in the European Quarterly, Commercial Property Outlook (Q3 2017) highlighted how 2017 European investment volumes were on course to beat those of 2016. In fact, a total of €47.4 billion was invested in European commercial property in the third quarter (Q3) 2017; a 13 percent increase on the same quarter of 2016. A new report from commercial property firm Savoystewart.co.uk claims to uncover the countries attracting the most interest in investment in Europe. In analysing the figures, Savoystewart.co.uk found several countries experienced a spike in commercial investment in 2017. Most notably in Finland, with a total investment of €5.6 billion, Q1-Q3 – a rise of 121.60 percent on figures from 2016.  Hungary (89.90 percent), Romania (73.50 percent), the Czech Republic (43.30 percent) and Netherlands (41.70 percent) followed, with considerable increases measured.
Though missing out on the top ten for highest commercial investment volumes, the UK received €37.6 billion in commercial investment, Q1-Q3 2017, which accounts to a 2.80 percent rise on 2016. The recovery in UK volumes has been primarily driven by the sale of large assets in London to overseas buyers, particularly in Hong Kong according to the report meaning that the UK's position as a force in the commercial property market remains.
Several European markets experienced large falls in commercial investment volumes, with the top three identified in the report as Ireland (-58.30 percent), Sweden (-38.60 percent) and Switzerland – with an average -35.50 percent fall in investment figures.
Furthermore, Savoystewart.co.uk claims that the top five preferred sectors for investors in 2018 are Logistics and Industrial (51.0 percent), Specialist – including automotive/student/healthcare – (28.3 percent), Office at 15.2 percent, Hotel (3.4 percent) and Retail with 2.1 percent. 58.9 percent of the same investors believe there will be a "stronger demand" for commercial property in Europe in 2018, while 31.5 percent claim there will be no change and 9.6 percent agree the demand will be weaker.