March 7, 2018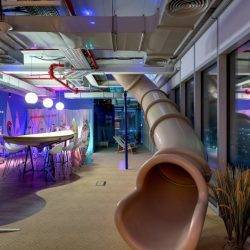 Google has been named the Ideal Employer among tech professionals in the 2018 Dice UK Ideal Employer Report. While market leaders including Microsoft, Apple, Amazon, Facebook and IBM are placed highly, the report suggests that smaller tech brands can also attract the top talent through benefits including yoga, in-house cafeterias and more. For many technology professionals, Google is the gold standard employer, with a perfect mix of competitive salary, perks, benefits and interesting work, something smaller companies can learn from. The survey of 464 tech professionals found that simple office upgrades including yoga, colourful furniture and other positive innovative cultural perks can help smaller companies attract the best talent, even if smaller in size. Good work/life balances, open communications and manageable working hours also ranked highly. Top-ranked Google and third-ranked Apple boast fancy cafeterias loaded with snacks, paid-for gym memberships, 'nap pods', paid paternity leave and more, but often an attractive office space, positive working environments and flexible working approaches are as key, and can be implemented across the board.
In the report, UK tech professionals mentioned a total of 501 different company examples. The report was commissioned by leading tech career hub Dice, to showcase the most cherished traits to ensure employers appeal to candidates.
The Ideal Employer Report will become an annual study exploring which companies are most admired by technology professionals, analyzing the professional, demographic and psychographic nuances of power tech professionals.
The Dice Ideal Employer report can be found here: https://issuu.com/itjobboard/docs/dice_ideal_employer_report_web