October 12, 2018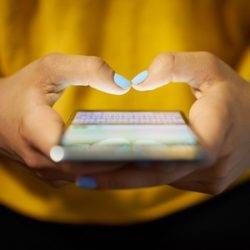 A pan-European network to tackle problematic internet usage officially launches today with the publication of its manifesto, setting out the important questions that need to be addressed by the research community. As the internet has become an integral part of modern life and its use has grown, so too has its problematic use become a growing concern across all age groups. It has provided a new environment in which a wide range of problematic behaviours may emerge, such as those relating to gaming, gambling, buying, pornography viewing, social networking, 'cyber-bullying' and 'cyberchondria', which can have mental and physical health consequences.
The newly created European Problematic Use of the Internet (EU-PUI) Research Network was formed in response to the emerging public health importance of problematic internet use and is funded through a €520,000 grant from COST (European Cooperation in Science and Technology). The network's aims include identifying key genetic, psychological and social factors that lead people to disordered online behaviours including excessive video gaming, pornography viewing and use of social networks.
Professor Naomi Fineberg, Consultant Psychiatrist from the University of Hertfordshire and Chair of the new network, said: "Problematic Use of the Internet is a serious issue. Just about everyone uses the internet, but information on problem use is still lacking. Research has often been confined to individual countries, or problematic behaviours such as Internet gaming. So we don't know the real scale of the problem, what causes problematic use, or whether different cultures are more prone to problematic use than others."
The network, which includes 123 experts from 38 countries across Europe, has today published its manifesto in the journal European Neuropsychopharmacology, setting out the research priorities to help the scientific and clinical communities understand and tackle problematic internet use. These include:
Age- and culture-appropriate assessment tools to screen, diagnose and measure the severity of different forms of problematic internet use
Understanding its impact on health and quality of life
Clarifying the possible role of genetics and personality features
Consideration of the impact of social factors in its development
Developing and testing effective interventions, both to prevent and to treat its various forms
Identifying biomarkers, including digital markers, to improve early detection and intervention
Professor Fineberg adds: "There's no doubt that some of the mental health problems we are looking at appear rather like addiction, such as online gambling or gaming. Some lean towards the OCD end of the spectrum, like compulsive social media checking. But we will need more than just psychiatrists and psychologists to help solve these problems. We need to bring together a range of experts, such as neuroscientists, geneticists, child and adult psychiatrists, those with lived experience of these problems and policymakers, in the decisions we make about the internet.
"We need to remember that the Internet is not a passive medium; we know that many programmes or platforms earn their money by keeping people involved and by encouraging continued participation; and they may need to be regulated – not just from a commercial viewpoint, but also from a public health perspective."
Dr Sam Chamberlain, Consultant Psychiatrist from the University of Cambridge, who is leading research priorities for the network, added: "Despite dedicated research leading to some breakthroughs in our understanding of the psychology and biology that underpins these behaviours, we still don't know enough about the risk factors for problematic internet use.
"The current level of evidence has to be increased to improve our ability to diagnose problems and predict an individual's prognosis, as well as to develop effective interventions to help affected individuals and those at greatest risk."