July 22, 2021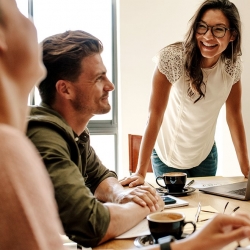 With much of Europe having worked remotely for over a year and many continuing to do so for the foreseeable future, new insights from Sharp, claims that there is a significant appetite among European workers to return to the office for some of the working week.
However the study also highlights a range of demands that employers will need to address to create productivity and positivity in the workplace of the future especially for those workers under 30.
The new research of over 6,000 office workers in SMBs across Europe, highlights the impact that the pandemic has had on workers' needs, as well as expectations for ways of working in the future.
Following an enforced time working from home, almost three in five (58 percent) said working in a dynamic company office environment had become more important to them and over half (55 percent) stated the importance of being able to meet with and work with colleagues physically.
When it comes to thinking about their preferred way of working in the future, the ability to work remotely full time is most important to Spanish workers followed by Dutch workers, while working from their company office full time is most important to the Poles, followed by Italian workers. One point that all Europeans are in agreement on is the ability to balance working in the office and working remotely; with a hybrid approach ranking higher than either full time remote or full time office working in every country.
However, while there is a clear demand to get back to the office, there are certain aspects that workers feel will deter them from returning. The top five reasons include:
1. Lack of suitable technology
2. Restricted layout
3. Shared facilities with multiple companies
4. Only accessible by public transport / Dull or uninspiring design
5. Lack of variety of working and meeting spaces
The working from home experience has differed for workers across Europe, with mixed opinions on what is most important when thinking about how they want to work in the future. The ability to meet with and work with colleagues physically is most important to the French (87 percent), while flexibility and having the ability to work at times they set, not fixed daily hours is most important to the Poles (71 percent), followed by the Brits (63 percent).
Sharp shares these research findings in a new future of work report for SMBs across Europe, developed together with future of work psychologist, Viola K. Kraus.
"Technology must be at employees' fingertips and they must be clear on how to use it effectively."
Viola K. Kraus explains, "Much has been made of the terms 'hybrid workplace' – a mix of remote and office based work, but to make it function effectively, it's clear that technology availability and how to make the most of it, coupled with training on how to efficiently collaborate and how to keep a company's culture alive will be critical. Having experienced it at home, technology must be at employees' fingertips and they must be clear on how to use it effectively. The new role of the office will be defined over the coming months as we adapt to the next normal and businesses find the right balance in terms or where people work and how they work."
When it comes to what will make workers more likely to spend time in the office, knowing their colleagues are there and more opportunities to socialise are at the top of the agenda, as well as ensuring they have access to the latest technology.
Rob Davis, Solutions & Services Business Manager at Sharp said: "There is a clear demand to get people back to the office, but it's important to manage expectations and consider what employees are looking for in order to make it a smooth transition and balance remote working and office working. It's time to embrace more collaborative space, systems and attitudes to meet the post-pandemic worker's needs."
Image:Sharp