May 5, 2016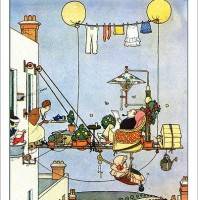 An article in The Guardian newspaper once sought to lift the veil on the extent to which Serco is entangled in the running of infrastructure in the UK and overseas. One of the questions posed was: Is there any limit to the fields they work in? Serco's response was: "We operate in a range of markets and geographies, which means we are well placed to bring a wide range of experiences and knowledge to help customers with the challenges that they face." Now, that's the sort of phrase that will be familiar to anyone who has visited the website of a service provider or has written a bid in response to a tender for a contract. It is the way that providers wish to sell themselves. We can do more. We can do everything. We can do it anywhere. And if we can't, we'll get someone else to do it in one of our uniforms in the hope you won't notice. We'll save money. We'll do it for less. We'll do it with fewer people.
You'll even give it a try. You will not be successful. You might earn your bonuses because you'll have linked them to highly transactional and increasingly commoditised performance SLAs and KPIs but you won't have significantly moved the dial. You'll suck in resources from all over the organisation and squeeze your margin. You'll use neat accounting tricks to maintain the profitability of the contract. You'll keep up the smoke and mirrors act because they're the only thing keeping the Emperor in new clothes.
FM is a service industry. Providing amazing service is a VERY GOOD THING. Great service oils the wheels of commerce. It puts smiles on faces. It is an enabler of strategic direction. It keeps the liquid and glass container that the brains in the laboratory float in clean and clear and free of detritus. It comes along at the end of the day and makes sure the nice words you wrote in the CSR section of your Annual Report about environmental responsibility come true. In short, it's one area of your business that you should be able to sing the praises of. And if you are in FM it's these sorts of thing that mean you can genuinely show the value you add. Not just to UK PLC in terms of pounds in coffers and numbers of people employed but to real people trying to get real work done. You don't have to elbow your way to that fabled strategic top table. That's where it'll be you writing the kind of nonsense that the rest of the workforce have to try to deliver. That's where you'll be in the room when the kind of decisions get made that later make headlines. If that's where you want to be then good luck to you. We'll read all about how you get on in The Guardian.
____________________________________________________

Simon Heath is a freelance illustrator and commentator on workplace and facilities management issues and was formerly Head of Operations, Global Workplace Strategies at CBRE. For more of Simon's worldly, wise and witty writing on all things work and workplace, visit his blog https://workmusing.wordpress.com.