November 14, 2017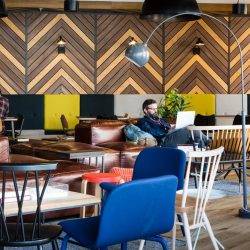 As the pressure grows for small businesses to find affordable workspace in the UK's capital, the London Assembly has published a new report that looks at ways of addressing the underlying issues, especially a fall in the availability of appropriate space. According to the Assembly, the pressure on affordable workspace for SMEs in London is increasing. Sixteen per cent of industrial land was lost between 2001-2015 and if the trend continues, industrial land in London could fall a third by 2041. In outer London, almost one fifth of workspace could be lost to residential homes and since 2013, the relaxation of permitted development rights has led to the conversion of 1.47 million square metres of office space to residential homes.
Yet at the same time as supply is contracting, demand for flexible, yet well-connected workspace has increased in London. Affordability is a key concern for SMEs and co-working models can help combat the high cost of rents.
In response, the London Assembly Economy Committee has published its report 'Helping SMEs to thrive'. The report sets out the challenges facing SMEs in London and what the Mayor can do to help SMEs prosper in the capital.
The report makes a number of recommendations to the Mayor of London:
Look into creating more flexible workspace in London by using available space more smartly. This will help reduce business overheads for micro and start-up businesses.
Commission research into the reasons why businesses are leaving London and identify which types of businesses are moving and the impact this has on local communities.
Bring together innovative planning policy by local authorities to create new affordable workspaces for SMEs.
Fiona Twycross AM, author of the report, said: "SMEs are the life blood of London's economy and our local communities. Yet, they are struggling to find work space that is flexible, affordable and well-located. The Mayor of London needs to address this issue to ensure the continued success of this city. We need concrete proposals to maximise affordable workspace and to fully understand why SMEs are leaving London. The voices of micro and small businesses must be heard when it comes to shaping the city."