November 14, 2017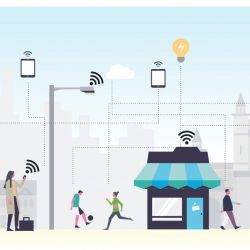 A new quarterly report that claims to analyse the latest trends taking place in cities across the UK has been published by Future Cities Catapult, the Government-backed centre of expertise in urban innovation, the City Innovation Brief (automatic download) summarises key developments and changes from cities across the UK, identifying where money is being invested and what future opportunities might look like within the advanced urban services sector.
Insights have been gathered across multiple themes including political, economic, environmental and societal, to shine a light on what UK cities are doing, thinking and are concerned about.
Highlights from this report covering the second quarter (Jul-Sept 2017) include:
Government launched investment strategies for energy, transport and a £3 billion plan to improve air quality.
Devolution deals finalised in Edinburgh and stalled in South Yorkshire.
Belfast and Aberdeen taking steps forward with their smart city plans and Milton Keynes announces a new partnership with Huawei.
Questions raised on the ability of local authorities to manage personal data and deal with cyber security attacks.
Electric vehicles 50% year on year increase in registrations, with new pledges to phase out fossil fuels from vehicle manufacturers and government.
The UK's largest autonomous vehicles trial given the green light to move onto city streets, while Uber is informed that its licence will not be renewed in London.
£227 million of public sector contracts advertised related to advanced urban services, with 35% of tenders attributed to the digitalisation of services and 47% to intelligent systems
£8 billion of funding announced this quarter to support investments in housing, air quality improvements, mobility technologies, tackling litter and cultural regeneration.
Once thought of as a luxury rather than necessity, the report identifies millions of pounds being spent on urban services that are infused in innovations. As Bristol was recently recognised by Huawei's UK Smart Cities Index 2017 as overtaking London in its smart city capabilities, lots of other cities are stepping up their attempts in using technology to tackle urban challenges from air quality to congestion. Mayor Sadiq Khan will be publishing his 'Smart London Plan' next year, and Belfast City Council has recently launched its Smart City Framework, harnessing the strength of Belfast's digital sector and encouraging greater innovation and collaboration between local businesses, universities and the public sector.
Nicola Yates, Chief Executive Office at Future Cities Catapult said: "Managing the ongoing growth and complexity of our cities requires the very best of human ingenuity, and fortunately the UK has a wealth of innovative companies that can help. We call this the advanced urban services sector.
"In this and in future issues, our City Innovation Brief will show how cities across the UK are harnessing advanced urban services to help them become more productive, sustainable, inclusive, resilient, and more liveable. Through the latest sector trends and deep-dive insights from city officials we will share and champion best practice in the sector, providing opportunities for cities to learn from one and another."