October 25, 2018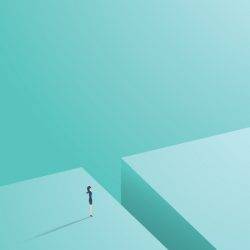 Impostor syndrome is holding female graduates back from earning as much as their male counterparts as new research from Milkround claims that women have lower salary expectations than men, with one third thinking they'll earn under £20k. Despite a third of graduate's belief that confidence is the top skill they need to excel in their career, a lack of confidence is holding back more women (41 percent) than men (28 percent). One in three (33 percent) women are worried about low pay and think they'll earn under £20k in an entry level role, compared to less than a quarter (22 percent) of their male counterparts. Males expect to be earning more in five years' time, with more females (25 percent compared to 15 percent males) expecting to be on £25-£30k and more males (23 percent compared to 17 percent females) expecting to be on over £35k in that time frame. The difference in salary expectations indicates a disparity in confidence levels between the genders.
While confidence was the top choice for respondents when asked which soft skills they believe they need to work on most to excel in their career, far more females (41 percent) reported a lack of confidence than males (28 percent). Competition from those with more work experience was another concern, with more females (58 percent) citing it as an issue, compared to males (47 percent).
Writer and activist, Natasha Devon MBE said: "Impostor syndrome is more than just 'lacking confidence'. It's an all-consuming belief that you aren't worthy of your career achievements, that you're a fraud and a fear of being 'found out', even if all the evidence shows you to be qualified and capable. Whilst feminism has come on in leaps and bounds over recent years, we still live in a culture where the prototype for success and influence is white, male and middle aged. It's no wonder, then, that the people most likely to experience impostor syndrome are young women."
Georgina Brazier, Jobs Expert at Milkround said: "Confidence issues are affecting graduates before they even hit the workforce, which often lasts with them throughout their career.  Our research shows almost half of all graduates think more self-confidence would help them with their job searches. Once employed, we find that graduates are stepping into the workforce with a preconceived idea on salary, that is connected to their self-confidence.
"While more employers are implementing mentorship programmes to alleviate impostor syndrome and boost confidence among new starters, more needs to be done to ensure that this negative mindset is reversed, before they start working their way up the career ladder. We encourage employers to support graduates entering the workforce though mentorship programmes. This ensures the process is clear and transparent and graduates have a clear view of their career progression."