November 26, 2019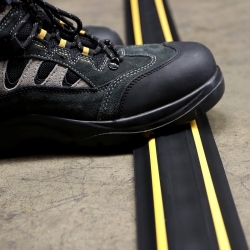 First Mats is delighted to announce the launch of a brand-new range of floor cable protectors to complement the company's existing selection of floor matting safety products. The new range of floor cable protectors is specifically designed with floor safety in mind to protect workers from trip hazards, as well as preventing damage to expensive IT equipment.
"A big part of the First Mats mission is to help improve safety in workplaces, and I believe that this range of floor cable protectors is a fantastic addition to our established range of floor matting products," said Richard O'Connor, Strategic Marketing Director.
Loose, trailing cables present a dangerous health and safety hazard to workers, and First Mats' new range of floor cable protectors can improve floor safety and prevent workplace accidents. IT equipment is also vulnerable to damage when cables are accidentally yanked out.
As well as performing a vital health and safety at work function, First Mats' new range of floor cable protectors has another important role to play in any workplace environment. Floor cable protectors help to keep office premises, warehouses, commercial kitchens, and factory floor areas tidy, preventing tangles of cables from collecting dust that could present a fire hazard or harbour gnawing pests and insects.
Loose cables can easily be damaged and abraded by foot traffic and vibration. Still, First Mats' floor cable protectors can prevent that, saving firms from the cost of cable replacement and the expensive production downtime that can be caused by catastrophic equipment failure. Floor cable protectors can also be used to shield outdoor cabling at events, festivals, and the like, preventing damage by the elements and from foot traffic, as well as protecting people attending the event from trip-related accidents.
First Mats' cable protectors are made from super-strong PVC material for excellent durability and are suitable for both indoor and outdoor use. The whole range of floor cable protectors is made with a seamed backing that keeps cables and wires snapped firmly in place. There are several grades of durability on offer, from general-purpose floor cable protectors that are ideal for use in offices and computer rooms, through to a heavy-duty version that can withstand impact from heavy vehicular traffic and vibration from adjacent machinery.
For more information, please contact First Mats on 0121 702 1659, email info@firstmats.co.uk or visit the First Mats website (https://www.firstmats.co.uk/).