November 26, 2019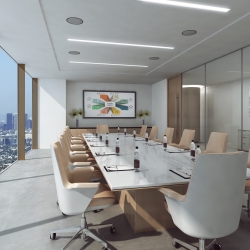 Summa, an executive chair by Humanscale made for today's dynamic leaders, is now ready to order. An effortless blend of luxury and simplicity, Summa's defined aesthetic and sophisticated palette is well-suited to high-end executive spaces within the workplace. The executive chair has a single, discrete height-adjustment lever seamlessly designed into the seat, unlike most chairs which have multiple exposed adjustment levers. Complementing its enveloping shape and sculpted materials, Summa features Humanscale's signature weight-compensating recline mechanism and integrated armrests for exceptional ergonomic comfort and support.
For twenty years, Humanscale has created high-performance, supportive chairs with a weight-compensating recline, instantly adjusting to each unique sitter's weight. Providing long-lasting ergonomic comfort, Summa is one of the brand's first entries into high-end conference seating and the result of a design collaboration with Gensler, the world-renowned architecture firm. While designed for boardrooms, Summa's versatility takes it from the corner office to the boardroom to the executive home office.
Summa's multiple configurations, finishes, and upholstery and leather options offer the opportunity to create a truly distinctive chair. Summa can be specified with an upholstered or wood back and comes with custom-designed casters for added flexibility. Wood finish options include anegre, walnut and ebony. Seven unique fabric upholstery options are complemented with matching box-stitching.
Committed to achieving a net positive environmental impact, Humanscale is introducing Summa in one of its new lines of chrome-free leathers. Luxurious, elegant and enduring, Humanscale's chrome-free leathers are better for both the user and the environment. The leather undergoes a synthetic vegetable tanning method to eliminate chromium, a harmful chemical used to tan most leathers. In addition to being more environmentally conscious, Humanscale's premium leathers exceed industry standards in performance and durability. Humanscale is one of the first companies to exclusively offer chrome-free leather across its seating line. Additionally, Summa's cylinder, casters and base are made with an environmentally neutral Chrome-3 finish, as opposed to red-listed Chrome-6, a finish that is typically used by many manufacturers and hazardous to both users and the environment.
Guide price starts from £2,833. Subject to exchange rate variation. Find out more at https://uk.humanscale.com/products/product.cfm?group=summa