March 2, 2020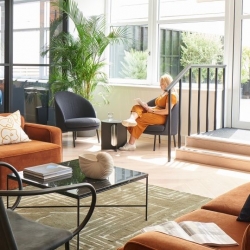 A new report from Office Freedom claims that Central London is enjoying continued growth in demand for flexible offices, with no sign of slowing. Flexible workspaces have seen a dramatic increase in recent years, with Central London seeing particular interest for flex spaces.  The London's growing flex appeal report takes a detailed look at Central London flexible workspace trends.
It claims the City of London holds a 22.2 percent share of flex working spaces, Tech City (Shoreditch, Old Street and surrounds) holds an 11.9 percent share and Midtown (Bloomsbury, Holborn and surrounds) holds a 10.9 percent share. While the City of London was the single area in which most transactions were concluded, the locations covered by the W1 Postcode (Mayfair, Marylebone, Soho, Fitzrovia etc.) accounted for the majority of flex office transactions.
In 2019 the average London monthly desk rates ranged from between £314 in Notting Hill to £747 in Paddington, with London rates having dropped an average of 3.1 percent year on year. Historically Mayfair has been one of the most expensive Central London flexible offices locations; however, with a 13.8 percent drop in average desk rates it has become the second most popular destination for flex offices behind The City. SE1, the third most popular location, has seen little change in average rates.
The growing demand for flexible working spaces can widely be attributed to the Tech industries, with the sector accounting for 16.3 percent of all flexible office transactions in 2019- double that of 2018. Finance companies hold the second largest share of flex-spaces, with a 12.7 percent market share; much of this can be linked to London's continuing global financial influence as the second highest rated financial hub. Companies with a technology focus continue to drive demand in the flex office market but more traditional sectors such as Legal and Health are also investing in flex space
The future of the flex space market is predicted to see a continuing increase, with a variety of sectors beginning to, and continuing to use, flexible working spaces.
Kevin Tewis-Allen, CMO of Office Freedom predicts- "With UK economic and political volatility easing post-Brexit, we expect that global investment into the London flex market will rise substantially. We anticipate seeing increasing demand from sectors such as insurance, banking, legal and new tech industries like fash-tech (fashion technology)"