January 22, 2020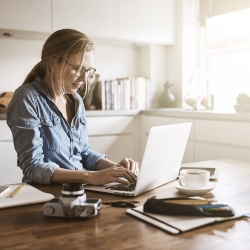 Two thirds of employees say they are more productive when they work remotely yet many are being held back because flexible working technology is not optimised. Research carried out among 2,016 UK flexible workers by 99&One suggests that companies are still not getting some basic technology configurations right. According to the research, nearly one in five (17 percent) employees still experience connectivity issues when working remotely.
Part of the problem is that employees have been overloaded with technology they have not yet fully adopted or mastered. Those surveyed reported challenges with instant messaging (67 percent), shared documents (61 percent), cloud-based collaboration tools (48 percent), video conferencing (40 percent) and audio conferencing (36 percent).
The research revealed just four in ten employees have received additional training or support on technologies to work more flexibly. However, those who have had sufficient training on flexible working technologies are five times happier (56 percent) at work than those who are not offered any support (11 percent). Trained workers are also more than twice as likely (45 percent compared to 18 percent) to say that they get more work done in the same amount of time when working flexibly.