April 26, 2022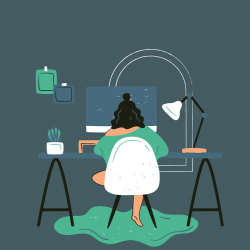 A poll from Perkbox claims that moves towards hybrid and flexible working are changing the workplace experience for employees across the UK, with 57 percent feeling freer to be 'themselves' in this environment. This is particularly strong for women – 61 percent say they feel freer to be themselves when remote and hybrid working compared to 51 percent of men. In addition, 55 percent of employees say that remote and hybrid working has been a huge step forward in supporting more diverse and inclusive working environments.
The survey of over 2,000 full time-employees found more than half (54 percent) report a better work-life balance as a result of hybrid working, with the increased flexibility particularly valued by employees aged 25-44 (60 percent) who may be more likely to have caring responsibilities.
But despite the gains that many are experiencing, some employees are missing the unique interactions that come from seeing colleagues face to face. For example, 53 percent think it's harder to make friends amidst remote and hybrid working.
These changing social interactions remain front of mind for business leaders too. A recent survey of  500 UK business leaders found more than one in four (28 percent) are concerned about retaining a strong sense of company culture amidst sustained remote and hybrid working. And one in three (34 percent) are concerned about keeping staff morale high, with fewer socialising opportunities available to workers.