July 13, 2020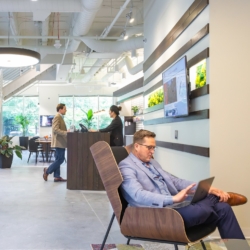 US flexible workspace provider Serendipity Labs has appointed JLL to expand its operations to 20 new locations in the UK over the next two years. Founded in 2011, Serendipity Labs operates a network of "hospitality-infused" workplaces offering shared and dedicated workstations, meeting venues and work lounges. The new plans follow an initial launch last year in partnership with Newable to open and operate 25 locations in the UK.
John Arenas, chairman and CEO of Serendipity Labs, said: "Our relationship with JLL in the US is innovative, profitable and extremely valuable and we are excited to continue that excellent relationship here in the UK.
"By teaming with NewFlex and now JLL here in the UK we will be able to bring our upscale, enterprise class co-working brand to UK entrepreneurs whilst simultaneously addressing the needs of asset owners with a trusted four-star flexible workplace experience."
Brett Million, strategic partnerships director at NewFlex, added: "Since 1993, NewFlex has changed the way people look at workspace, from fresh-out-of-the-box start-ups to budding SMEs and larger corporates. Together with JLL and Serendipity Labs we will continue to provide inspiring places that allow these businesses to grow, while generating long-term value for asset owners."
Ben Reed, head of UK tenant representation at JLL, said: "Serendipity Labs is well-positioned to establish a UK-wide portfolio offering occupiers and landlords a high-quality service offering."
NewFlex delivers and manages a range of branded flexible office solutions for every type of location and occupier. Delivered via management contract agreements and/or franchises, all workspace solutions benefit from the common Newable Flexible Workspace platform, from demand generation, to building management and compliance through to account reporting, yield optimisation and planning. NewFlex brands include Serendipity Labs, Bold, Citibase, easyHub, White Label, Space-as-a-Service and Tailor-Made.