July 9, 2020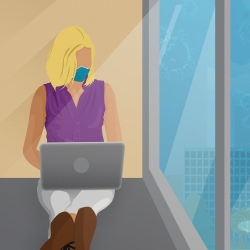 In March, coronavirus presented a stark challenge to businesses attempting to cope with workplace absence. FirstCare statistics show that during Q1 2020, more than 98 percent of Covid-19-related absences were due to unconfirmed cases, self-quarantining as a precaution, or caring for dependents. This has resulted in huge financial pressure on businesses. Now though, as restrictions are gradually eased, human resources must respond to the mental health challenges the pandemic has manifested in workers, including grief, trauma, PTSD and more general anxiety.
We are already seeing the effects of the psychological fallout of the pandemic. Analysis we conducted for Mental Health Awareness Week at the end of May showed an alarming increase in absences in younger workers since the beginning of the year. The data showed that absences related to psychological wellbeing had increased 350% year on year amongst workers aged 20 to 30.
Coronavirus has created a perfect storm for mental health issues among the young
Sadly, statistics like these are unsurprising. The Institute for Fiscal Studies (IFS) has already said that the repercussions of Covid-19 are hitting young workers disproportionately. When combined with the fact that young people are more likely to work in sectors most impacted by coronavirus, like retail and hospitality, it becomes clear that coronavirus has created a perfect storm for issues among the young.
Absence strategies
Of course, even before the coronavirus pandemic struck the UK, mental wellbeing-related absence was a serious cause for concern for many businesses. Poor mental health has a devastating impact on revenue. Our calculations show the economy lost £25 billion because of mental health-related absence last year.
As businesses and the Government consider the long road to recovery, it is vital that mental health support is integrated into any strategy that aims to rebuild the workforce and get the economy moving again. To do this, it will be necessary for businesses and their HR teams to get to the root of the problem. But there is no 'one size fits all' solution; something that is emphasised by the extent to which different sectors have been impacted by the pandemic.
The charity sector, for example, has suffered the most from mental health-related absences during the Covid-19 pandemic. Charity and care groups have seen mental health-related absence increase by 250%, perhaps reflecting the devastating impact which Covid-19 has had on funding for the third sector. Our data also shows a 57% increase in mental health absence in the finance and insurance industry, with insurers under great pressure due to the pandemic as underwriting losses rapidly mount.
Coronavirus has taken the largest toll on men's mental health
The NHS, on the other hand, has seen a 13% decrease in mental wellbeing absences since last year; a statistic that would appear to be at odds with the immense pressure NHS workers have been under. Yet, this seemingly anomalous data is useful in highlighting an area Trusts need to be keenly aware of, as the mental repercussions of the pandemic begin to manifest in the service in the months to come.
There are also demographic differences worth examining. Our data shows that, so far, coronavirus has taken the largest toll on men's mental health. Women have seen a reduction in mental wellbeing-related absence in year-on-year statistics, whereas male mental health absences are up 15%. Historically, women call in more mental health sick days than men, but since the emergence of coronavirus, this has shifted and balanced out for the first time.
It is important that staff are heard regarding their feelings towards returning to the office or continuing to work remotely. HR teams should, when possible, communicate that both options are available dependent on the individual colleague's circumstances.
Organisations might also consider straightforward provisions such as a company-wide counselling service, to ensure employees' voices are heard and signposting can be provided to further sources of support or to escalate concerns. In any case, an approach which emphasises increased transparency around mental health will significantly benefit employee wellbeing and help businesses minimise absence permanently.