May 20, 2014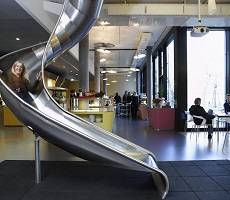 Designers can install sleep pods, slides and play areas in an effort to create a cool office, but the problem is that for every renowned Google campus are countless stuffy offices with fluorescent lighting and cramped, crowded conditions.  When you drill right down to it office workers want those responsible for office design to meet their basic human needs; with more natural light, effective heating and air conditioning and the better use of office space. This is according to the results of a survey by Steelcase of more than 800 office workers across the UK to mark the beginning of Clerkenwell Design Week. It found that despite British workers appreciating the latest technology and high-quality office design, better lighting and more control over temperature settings would be a big step forward towards their dream office.
According to the research, good natural light and a space which allows free movement and a choice of posture means that workers can feel a sense of belonging and authenticity which is also vital for creative work.
The study also found that that employees yearn for a feel good factor while at work. This includes being allowed to personalise their own office space and having more pot plant/greenery, as well as changing the colour of the walls.
But while many workers wanted more hot desks for mobile workers, others couldn't stand not having their own desks, "I would have NO hotdesking" and "I would like my own desk as a sense of belonging".
According to Lawrence Morison, Vice President at Steelcase:  "Britain's office workers have made their feelings loud and clear. They know the value of a good working environment and what they want to see included in it.
"People's expectations reach further than their pay-check and general job satisfaction. Workers in the modern office want to feel comfortable at work and be in an environment which makes them at ease and enables them to work better. There is plenty of research around that shows that employees' wellbeing is crucially important to a company's' bottom line.
"Global research has shown that workers who feel that they are valued members of a team and not simply elements on a production line are less prone to absenteeism and work with greater enthusiasm and productivity.
"It is important that workers are empowered by an environment which allows them to feel that they are in control. The study shows that making sure office workers basic needs are met does not mean that businesses must make any drastic or expensive transformations.
"Whilst some of the requests are conflicting, the answer is often simply to give workers more autonomy over their work environment, if a workplace provides a hotdesking area as well as a permanent desking area for example, you would be catering to workers often conflicting needs.
"The simple measures of allowing employees to work in good natural light at the temperature they feel most comfortable, can bring instant returns to a business, as a worker who feels well is a happy worker and a happy worker is a productive one. All in all, it's a win-win situation."
Steelcase will be presenting their findings on office design at Clerkenwell Design Week, which starts today.