May 21, 2014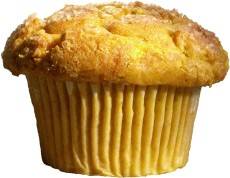 We all know –or should – that we have a real problem with information. We are not only deluged with the stuff, we appear increasingly willing to wallow in it voluntarily, even when we know it's bad for us. The full extent of the challenge we face managing information is laid bare in a new report from Microsoft called 'Defying Digital Distraction'.  The study is based on a survey carried out by YouGov which found that 55 per cent of 2,000 British office staff experience some form of information overload at work. A similar proportion feel they are distracted by information, just under half (43 per cent) experience stress as a result, a third (34 per cent) feel overwhelmed by it and 28 per cent believe it affects their personal wellbeing. The report is fronted by Dave Coplin, the Chief Envisioning Officer of Microsoft UK who we interviewed last year and coincides with the publication of Dave's new book called The Rise of the Humans: how to outsmart the digital deluge.
If anything those numbers look a little on the light side, especially when you consider how wiling we are to submit ourselves to the demands of devices and information. So maybe people underestimate just how hooked they are on their devices.
Last year a report from the Halifax found that three quarters of British people already claim they would struggle to get through a day without their technology. The survey of 2,500 people also suggested that around a third of Brits (22 million) admit to communicating with friends and family even though they are in the same house and nearly a quarter (22 per cent) claim they are happier communicating by phone or social media than face to face. A similar proportion (23 per cent) are anxious about switching off their phones with 19 per cent concerned they might be 'missing out' on something. A clear quarter of people (25 per cent) take their phone to bed to use and 10 per cent to the bathroom. Almost one in ten use their phone during meals. Three quarters check their contacts before they start work each day.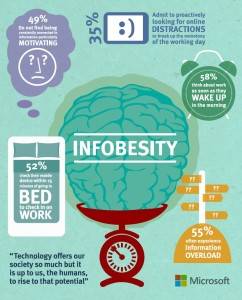 As Dave Coplin himself points out with regard to the new Microsoft study: "from the moment we wake up to the second we tuck in for the night, we want to be connected. But do we really need to check our mobile devices constantly just in case work sends us something important (40 per cent of us do), and does the last act before going to bed really have to be a final glance on the news and email feed (52 per cent of us think it's necessary). There must be something wrong with the office culture in many companies when 45 per cent of workers feel that they should reply to work email instantly – no matter where they are or what they're doing. And I feel for the one in 10 of us who say they can never switch off from work."
The report has coined the term 'infobesity' to describe how our constant snacking on information, including midnight trips, affects us. But according to Dave Coplin, there are things we can do to have a healthier relationship with technology and information.
"Succumbing to the digital distractions of our lives and failing to harness the transformative power of technology are simply beginner's mistakes, made by us – the first generation of connected consumers, connected workers and connected companies," he says. "Here is where we go wrong: we use technology to speed up the old ways of working; instead we should use technology to transform work and fundamentally reimagine how we use information. The good news is that I can see signs everywhere that we are beginning to turn things around. Technologies and tools – and best practices – are emerging that help us make good use of the data deluge – and turn it into a Big Data goldmine instead."