September 5, 2018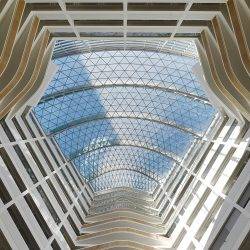 Mark Wilcock is an experienced facilities management professional and he has something to share with you. His self-written new book From FUBAR to Five Star: Delivering Excellent Facilities Management offers reflections and guidance on a range of challenges that face facilities managers in their day to day lives. Mark is currently Business Support and Planning Manager at The Co-operative Group based in Manchester and was one of the first three thousand members of the BIFM. He has around 25 years experience in facilities management across a number of sectors and in different countries. In the book he shares his thoughts on key issues related to both the day to day and strategic role of facilities managers. All proceeds from the book will be donated to Alzheimer's Research. Image: Co-op One Angel Square office Manchester, Buro Happold/David Hopkinson
From the Introduction:
This book will provide some pragmatic guidance on how to ensure that you receive the recognition that a stressed out, over worked and underpaid facilities manager deserves. Using a simple building analogy, the book will highlight the importance of having great, solid foundations upon which you can build the walls and roof of your operation. Once you have these rock solid foundations (governance and team building), you can confidently start to build your team, your unique modus operandi and your customer service. Only when you are absolutely 100% happy that the walls and roof are firmly in place, can you look at fit out the building, through adding value, bringing innovation, making step-changes and potentially winning awards.
And when that is done, start again because our industry or the business will constantly be evolving and we must change in order to keep up with it.
This book is aimed at anyone who shares my passion about facilities management, who wants to be the best they can and perhaps needs a bit of guidance on how to make that one critical, crucial change. Or, maybe your team or department is so FUBARed that SNAFU has become normal and you need to step back, take a deep breath and start again.
FM is a great profession and we are never too old or too experienced to learn. Those that think they are will get left behind, whereas those that research, network and seek out knowledge will be successful.
So, what is the point of this handbook?
It is not going to go into the minutiae of how to run a building. This book is designed to be a dip in and dip out guide on how to be a great Facilities Manager (FM), a great leader of a high performing, focused and well-aligned team, someone who connects with his or her customers and who is passionate about giving great service.
Fundamentally, what follows is a collection of thoughts collected over around 25 years in this mad world that we call facilities management. Each paragraph or section will draw upon experiences gained in the Royal Air Force, the Banking, Retail, Aero-systems, and Mobile Phone industries or the corporate and consultant world. I have worked on both sides of the fence as both a partner and the client and have been lucky to work in many countries and with subtly different cultures. This global knowledge, coupled with a Masters in FM (from what is now Leeds Becket University), has shaped my thoughts, actions and methods.
Being one of the first 3,000 members of BIFM, judging by my old membership number, I have seen our industry change significantly from 'Bogs and Drains' to a real value add entity that if properly managed and delivered, makes a real difference to the wider business.
Mark Wilcock
Manchester, 2017