June 8, 2022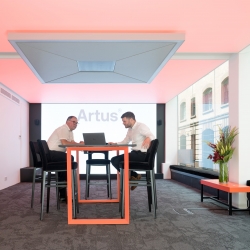 Artus, the ground-breaking heating and cooling system specialist and FUTURE Designs, the UK's leading commercial lighting manufacturer, are pleased to announce their collaboration on a purpose-designed, multi service system (MSU), offering a more sustainable and comfortable future for buildings and their occupants. The Artus MSU complements the existing Artus product with an exclusively sourced, custom-built lighting system from FUTURE Designs, alongside comprehensive acoustic properties. This means the functionality is threefold: Artus's advanced patented air conditioning system, FUTURE Designs' intelligent lighting system and Class A acoustics.
The Artus MSU is fully customisable in terms of shape, dimension, material finish and colour, to meet the specific requirements of designers and clients. The original Artus product, launched in September 2021, is an advanced patented air conditioning system, with a unit that combines the flexibility of a fan coil unit with the low energy of a chilled beam.
This represents a significant step forward in HVAC systems, offering a more sustainable and comfortable future for buildings and their occupants by transforming the way buildings are cooled and heated.
Each Artus MSU unit is pre-fabricated using a modular system of standard components for ease of install. The advantages of consolidating traditionally separated services: HVAC, lighting and acoustics into one include reducing time and cost across all building phases with quantifiable energy, carbon (embodied and operational)and space savings, as well as supporting architectural integration with one point of contact. Additionally there is a reduction in packaging, mounting points and coordination, which also has a positive environmental impact.
David Clements, Chief Executive of FUTURE Designs comments: "The creation of the Multi Service Unit (MSU), is a natural evolution for the ground-breaking HVAC system by Artus and we are excited to be the exclusive partner for this element in the latest innovation which adds lighting and acoustics. The benefits of this latest innovation are vast from aesthetics, ease of install, carbon reduction and maintenance as well as cost efficiency."
The impressive energy performance of Artus means that switching from a traditional Fan Coil Unit (FCU) to Artus has the potential to make significant combined energy and carbon savings, translating to up to 89% on fan input power*. Using Artus Optima, Artus' partnering control system, the technology could deliver all of a building's HVAC Net Zero carbon reduction target**, and reduce its regulated energy and total energy by 21% and 14% respectively***.  These figures are based on trial use of Artus Optima conducted in a 10,000m2 model office.
Rebecca Stewart, Chief Executive Officer of  Artus says: "FUTURE Designs share our ethos for low energy, quality aesthetics and attention to manufactured finishes. Together we offer a flexible product solution which reduces design time on projects, streamlines the coordination of services on site and ultimately achieves a higher performing, pre-qualified internal environment for people to be in."