June 7, 2022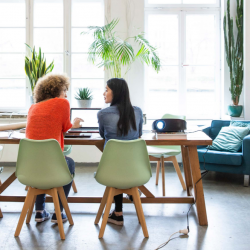 Hybrid work adoption is growing and becoming a permanent element of the future of work, according to the new Workforce Preferences Barometer report [registration] from real estate firm JLL. However, the report's authors also conclude that, as employee expectations and reality reach an equilibrium, the continuing use of offices remains pivotal to work routines.
"Hybrid working model has become the most popular way of working today among office workers," says Flora Pradere, JLL's Global Work Dynamics Research Director. "It has now been adopted by the majority of employees. However, hybrid is not an exclusive or universal way forward and there are many aspects to this new way of working – involving reward, risk and uncertainty – that need careful consideration."
Key findings:
Over half (55 percent) of employees surveyed are working in a hybrid mode today, up 5 percent from 2021. This is in line with expectations, with 60 percent of the workforce saying they aspire to work in a hybrid style.
Further solidifying hybrid work as the model of the future, 69 percent of workers say an employer with hybrid working options are fundamental to their retention.
With workers back in offices globally, where 73 percent of workers are in the office at least once a week, 60 percent say the office will remain central to their working life.
Preference to work from third-party places, including cafés hotel lounges and coworking facilities, continues to rise as flexibility becomes a non-negotiable expectation.
As hybrid work is confirmed as the gold standard for a majority of employees across the globe, interest in co-working and working from third-party places are growing.
33 percent of employees say they are attracted by the possibility of having access to coworking facilities or satellite offices close to their home, and 36 percent of workers report working from third-party places today.
The office becomes a crucial hub for human connection, at a time when workers feel isolated in remote settings.
Face-to-face interactions with colleagues continue to be a key driver for going back to offices. 44 percent say human contact is the aspect of office life they miss the most when working remotely today, and collaboration and socialization were reported as the top reasons for going into the office today.
The feeling of being productive at home for heads-down, deep work could have long-term implications if this trend continues to grow, with 25 percent of the workforce feeling isolated today and unable to maintain close relationships with their colleagues.
With nearly half of the workforce feeling disenchanted today, quality of life reigns supreme – now the top reason why 3 in 4 workers would consider quitting their job.
The Great Resignation is still in full force, where only 48 percent of the workforce are convinced that their company is a great place to work today.
With 24 percent of workers considering leaving their employer in the coming year, quality of life is the main driver – and now the number one work priority, where salary is ranked third, behind health and well-being support. This signals a critical whitespace for companies to enhance well-being support to retain and attract top talent.
While 91 percent of the workforce find flexible options appealing in their employer, the ability to choose working hours is most appealing and especially valued among younger employees and caregivers.
"Enabling hybrid work is one way, and a powerful way, to demonstrate to their people that they care," says Flora Pradere. "But this ambition requires more than just offering an employee a number of remote-working days. It should set employers off on a new mission to shape a more equitable world of work, that supports all workstyles – both remotely and onsite – and ensures that no one feels excluded.
"Importantly, the office still has a critical, but noticeably adjusted, role to play in this new hybrid work reality. It must become an inviting and inclusive destination where each member of the work community can reliably seek mental wellbeing support, peer recognition and a sense of belonging.
"It must also become the anchor of an organisation, one that enables shared achievements while allowing individual fulfilment and multiple workstyles to flourish. Hybrid has created a pivotal moment for employers to redefine the way we work and socialize; however, its sustained success as a workstyle will necessitate a reconsideration of the role of the workplace, across all its diversity, and of how it can shape and encourage new managerial cultures and community dynamics."