May 24, 2018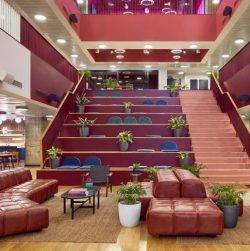 WeWork has announced its first flagship Indian location in Bengaluru. WeWork Galaxy is located on the site of the former Galaxy Theatre, and features a rooftop terrace with a pool and gym in addition to a mix of shared and private offices, which are designed around a 5-storey communal atrium. Bengaluru is India's tech capital and one of the country's leading cultural and economic hubs and so WeWork see it as a perfect fit for their coworking model. Created by the in-house design team, the goal was to create a space that 'felt open, yet communal and intimate for members and guests, by creating individual programming and design moments within the atrium space'.
The design is in keeping with the WeWork aesthetic but also uses local materials including wood and marble. The atrium space, situated on the ground floor of the building, is lined with stadium-style seating that creates an amphitheatre. The space features a video wall and LED light structures. The two event spaces, located in the wings of the atrium, are fitted with projectors, sound systems, and lighting controls.
The custom artwork lining the walls of Galaxy is the result of a collaboration between WeWork and St+Art India Foundation, a non-profit working to make art more accessible to a wider audience by taking it out of conventional galleries and embedding it into shared spaces. Magenta, blue and purple neon LED fixtures are paired with pieces by local streets artists, creating a visually stimulating environment for members.
Another key element of WeWork Galaxy is its focus on promoting health and wellness. The outdoor space, which sits atop the building, includes a rooftop pool, alongside landscaped environments ideal for coffee, yoga, lunch or one-on-one meetings. The building is designed with all aspects of its members' wellbeing considered, which is why the design team has created a wellness room where they can meditate, pray or unwind. Healthcare services are also offered and available to all members.