March 8, 2016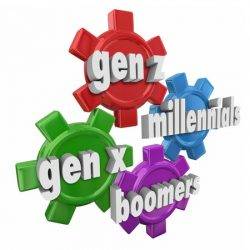 We reported the other week that the hardest working generation in the UK is Generation X (born 1965-1980). It seems this applies all around the world, as a global survey by Korn Ferry Futurestep shows that this generation cares most about making an impact on the business and are the most engaged demographic. When asked which generation is the most engaged in the workforce, more than half of respondents of any generation (52 percent) said Generation X. Baby Boomers and Millennials were tied at just under 25 percent. The heads down, get-the-job-done attitudes and priorities of Gen X employees means they care more about the job than the environment and culture of the organisation than other age groups. Well over a third (39 percent) of respondents said that the "ability to make a difference in their organization" is most important to Gen Xers in the workplace. That's nearly double the percentage that cite "job stability" or "development opportunities."
Nearly 50 percent of respondents also said that "the ability to make an impact on the business" is the top reason why a Gen Xer would choose one job over another. When asked why they would stay on the job, 41 percent said "a sense of pride in their work" with "financial stability" coming in second and "organizational culture" coming in third.
"While members of each generation are critical to the workforce and their diversity of thought brings new ideas and insights to companies, organizational leaders would benefit by harnessing and rewarding the hard-work habits of Gen Xers," said Andrea Wolf, Futurestep's North American Practice Leader, Human Resources.
"We find that generally speaking, Gen Xers have different priorities in the workplace than their younger millennial colleagues, who usually place much higher priority on the culture and vision of companies for which they work," said Wolf.
"Gen Xers tend to focus less on the environment around them and more on accomplishing their work goals and contributing to the success of the business. As a result companies need to value their ideas and opinions and give them a voice."
When asked which benefits are most important to Gen Xers, the top answer was "pay and bonuses" at nearly 50 percent. Only 25 percent said "paid time off."
"Talk to a Gen Xer about his or her vacation, and they'll say they're too busy to take one, or they had to cut it short because of work," said Wolf. "Employers may want to consider rewards other than extended vacation time to attract and retain this group."
When asked which generation receives the most attention in the workplace, nearly 60 percent of respondents cited millennials. However, results suggest that doesn't matter much to Gen Xers, as only 15 percent of respondents said being recognized for their contributions was a top priority.
"To increase productivity and quality, one needs to understand generational characteristics and learn how to use them effectively in dealing with each individual," said Wolf. "One of the best approaches for Gen Xers is to give the tools and resources they need to do their jobs well."
Click on the infographic for more data from the survey.