August 28, 2020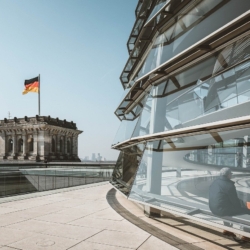 A new trial of universal basic income and its effects on people's wellbeing, work and wealth is set to start next year in Germany. The study will see 120 people receive €1,200 each month for three years, and researchers will compare their experiences with another group of 1,380 people who will not receive the payments.
The joint study by the German Institute for Economic Research (DIW Berlin) and the lobbying group Mein Grundeinkommen is intended to generate the data needed to prompt an informed debate on the issue. "We want to find out how an unconditional basic income changes people and society. We want to know what it does to behaviour and attitudes, and whether the basic income can help to deal with the current challenges our society is facing," explains Michael Bohmeyer, founder of Mein Grundeinkommen.
"Although there have already been scientific experiments on UBI worldwide, their findings are limited. They are either outdated, cannot be generalised or examine the basic income only for the unemployed. Against this background, we are really breaking new scientific ground in Germany with this study," said Prof. Dr. Jürgen Schupp, Senior Research Fellow at DIW Berlin.
Participants can earn unlimited extra money if they want. The amount of basic income paid is based on the German poverty threshold, which allows people to survive but without a social life.
The leaders of the project claim that, because human decision-making processes are highly complex and the focus is on changes in the participants' decisions and cognitive abilities, the study is also supported by psychological and behavioural researchers from the Max Planck Institute for Research on Collective Goods and the University of Cologne.
A better conversation
Jürgen Schupp, who is leading the study, told the German newspaper Der Spiegel that it would improve the debate about universal basic income by producing new scientific evidence.
Stereotypes drive assumptions about the supposed costs and benefits of a basic income
"So far, the debate about the basic income at best resembles a philosopher's salon, at its worst a culture war", he says in the interview. "It is characterised on both sides by clichés: Opponents claim that with a basic income people would stop working and lie around all day on the couch with fast food and streaming services. Proponents argue that people would continue to do fulfilling work, become more creative and charitable, and save democracy. As a consequence, these stereotypes also drive assumptions about the supposed costs and benefits of a basic income. We can improve this if we replace these stereotypes with empirically proven findings and conduct a more appropriate debate.
"An unconditional basic income for all makes sense only if it has positive effects individually and collectively, does not reduce the incentive to gainful employment too much and can be financed," explained Michael Bohmeyer. If the first study shows that the basic income has clear effects, two further studies on the UBI will therefore be carried out within the framework of the pilot project. While Study 1 explores whether the UBI has any impact on people at all, Studies 2 and 3 are designed to determine whether such potential effects are caused only by the money paid out to people or rather by the security that a basic income provides. Studies 2 and 3 are also supposed to find out how a basic income for all people in Germany could be realistically financed."
Image by noelsch