September 17, 2018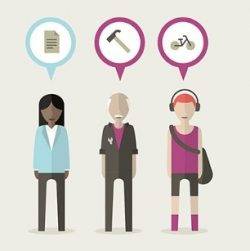 Recent ONS figures showing a rising employment rate could be inflated by the growth of zero-hour contracts within the gig economy, as the number of UK workers on zero hour contracts having more than tripled since 2012. This is propping up overall employment levels by accounting for almost a quarter of overall employment growth, new data by Adzuna has suggested. With the employment rate currently at a record high of 75.7 percent according to the ONS, Adzuna's data compares recent growth in the number of people in work overall to the increasing number of zero hour contracts, to ascertain how much these contracts have contributed to the growth.
Zero hour contracts have grown by 258 percent since 2012, with 901,000 workers currently employed on this contract type, up from 252,000, and zero hours workers currently representing 2.8 percent of the UK workforce. Meanwhile, the number of workers in employment overall has risen by 2.42 million over the same period, from 29.73 million in 2012 to 32.15 million in 2017. This means that zero hour contracts represent more than a quarter (26.8 percent) of overall employment growth over the past five years.
"MPs are quick to sing the praises of an improving jobs market, but the headline figures are drowning out the detail," argues Andrew Hunter, co-founder of Adzuna.
"A big chunk of the employment boost is down to a boom in zero hour contracts and 'gig' jobs, which do not always offer the same employment rights and stability of fixed contracts. As a result, overall figures look rosier than reality. Other workers have been forced into self-employment not out of choice but to escape the breadline, and many use the gig economy to top-up their pay packets."
Gig economy growing, with quarter-of-a-million vacancies currently on offer
The gig economy has also contributed to employment growth. Recent figures estimate that the booming gig economy employs more than 2.8 million workers overall. This is based on a definition of the 'gig economy' as "involving exchange of labour for money between individuals or companies via digital platforms that actively facilitate matching between providers and customers, on a short-term and payment by task basis."***  The working trend includes many freelancers, contract staff and part-time workers, as well as those employed on zero hours contracts.
The sector is growing fast, with almost a quarter-of-a-million vacancies (225,000) currently being advertised on Adzuna. As at 1 September 2018, there are 143,294 temporary contract vacancies, 6,838 freelance roles, and 74,983 part-time positions available on the UK jobs market.
Many of these jobs are clustered in London and the South East. The capital currently boasts 2,387 freelance opportunities (offering an average salary of £49,907), 26,071 contract vacancies (with an average salary of £36,825) and 9,671 part-time positions (with an average salary of £28,417).
However, opportunities for flexible work are much fewer away from the home counties. The North East, for example, currently offers only 141 freelance vacancies (£41,912), 3,933 contract roles (£24,725) and 2,480 part-time opportunities (£25,741). Similarly, Yorkshire & Humber boasts just 217 freelance roles (£44,175), 7,408 contract jobs (£25,054) and 3,918 part-time vacancies (£25,499).
Adds Hunter: "A more flexible jobs market is emerging that offers people more opportunity to fit work around their lifestyle. This is especially crucial to help working mothers, students and older workers – for whom full-time 9-5 may be impossible – to break into and stay in the workforce. But it is important that workers needing flexibility aren't forced into contracts with no security or guaranteed pay simply through a lack of choice.
"While there are plenty of freelance and part-time positions in London and the South East, there are currently far fewer flexible opportunities in the North of the country, which may be forcing workers into zero-hours contracts in these regions. We must be cautious that the gig economy doesn't become a crutch for employment levels in areas like the North East and Yorkshire."
Table 1: Growth in Zero Hours Contracts since 2012
| | | | |
| --- | --- | --- | --- |
| | October – December 2017 | October – December 2012 |  percent increase |
| Number of UK workers on Zero Hours Contracts* | 901,000 | 252,000 | 258 percent |
| UK workers in employment** | 32,150,000 | 29,730,000 | 8 percent |