September 6, 2018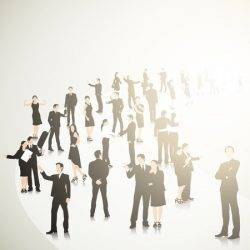 The number of "gig economy" professionals working in organisations is growing and this trend is expected to continue, a survey by Korn Ferry has claimed. More than half (60 percent) of HR professionals say that compared to three years ago, gig workers now make up a larger percentage of their professional workforce, and 42 percent say they plan on hiring more contingent workers in the future. The reasons, according to the survey, include cost savings, access to high-calibre talent and ease of managing gig economy professionals. Despite the fact that many gig professionals work remotely, 67 percent of the HR professionals surveyed say they are confident they know what the gig professionals are doing on a day-to-day basis, and 42 percent say these contingent employees are easier to manage than full-time employees. However, according to Jeanne MacDonald, president of Global Talent Solutions for Korn Ferry's RPO and Professional Search Business,  organisations should proceed cautiously and ensure they continue to cultivate in-house talent.
"As freelancers, consultants and contractors become more prevalent, it's important to keep in mind that the gig economy will not replace traditional models of work," said MacDonald.
"The key is to adopt a blended approach to talent acquisition and talent management, one that incorporates campus, contingent workers and full-time employees, and one that, in essence, makes the most business sense."
When asked why their organisations hire gig workers, survey respondents cited "access to resources for short-term projects" and "expertise we don't have in-house" as the top two reasons.
"The speed at which massive amounts of data and evolving technology cause changes in the types of workers needed is mind-blowing," said MacDonald. "Effective organisations contract with people who have high-demand, niche skills, which allows them to complete unique tasks, and then move to the next company that needs their expertise."
Nearly half (48 percent) of HR respondents say these specialised contingent workers perform at a higher caliber of work on their projects than less specialized full-time employees, and 46 percent say hiring gig professionals actually saves them money.
"Don't expect to pay lower rates for these skilled gig professionals," said MacDonald. "While they may cost more per hour or per project than your full-time employees, they provide the targeted expertise that can help quickly resolve issues and get results."
When it comes to blending gig professionals with full-time employees, 66 percent of HR respondents say they work to integrate the gig professionals into the culture of the organisation, and 59 percent say these workers have a positive impact on culture.
"Often, gig workers have the benefit of working with several different organisations and experience varying circumstances and situations," said MacDonald. "They learn new ways of doing things, which can infuse new ideas in existing employees, bringing enhanced innovation and results for everyone."