November 7, 2016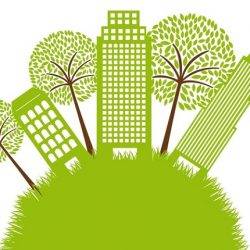 A global business case for healthy green building design and management has been provided 'for the first time' in a new report from the World Green Building Council with examples of the benefits to employers, building owners, designers and developers. The new report Building the Business Case: Health, Wellbeing and Productivity in Green Offices highlights 'the global momentum behind healthy and green office design and operation' and showcases over 15 buildings from around the world.  The research provides further evidence in the ways that green offices keep staff healthy and happy, improves productivity and boosts business' bottom line. Steps like improving air quality, increasing natural light and introducing greenery – those which typically have environmental benefits such as using less energy – may also have an impact on the bottom line by improving employee productivity and reducing absenteeism, staff turnover and medical costs, according to the report.
Examples of buildings which have raised wellbeing standards include Delta Development Group's new 12-story global headquarters for Heerema which by improving air quality, increasing thermal comfort and maximising daylight expects to realise a net present value of €42 million ($47 million) over 20 years in productivity, staff retention and reduced absenteeism, based on a study by KPMG. And Skanska's new Northern England hub in Doncaster, UK, has resulted in 3.5 times fewer building-related sick days than other UK offices, saving the company £28,000 in staff costs in 2015.
The World Green Building Council report calls on firms to assess key environmental factors which affect health and wellbeing, survey employees to find out how they experience them, and measure the economic factors they influence, such as productivity, absenteeism and medical costs.
The report identifies eight key factors in creating healthier and greener offices which can impact on the bottom line:
Indoor Air Quality and Ventilation – a well-ventilated office can double cognitive ability;
Thermal Comfort – staff performance can fall 6 percent if offices are too hot and 4 percent if they too cold.
Daylighting and Lighting– a study found workers in offices with windows got 46 minutes more sleep a night than workers without them.
Noise and Acoustics – noise distractions led to 66 percent drop in performance and concentration;
Interior Layout and Active Design – flexible working helps staff feel more in control of workload and encourages loyalty.
Biophilia and Views – processing time at one call centre improved by 7-12 percent when staff had a view of nature.
Look and Feel – visual appeal is a major factor in workplace satisfaction.
Location and Access to Amenities – a Dutch cycle to work scheme saved €27m in absenteeism.