March 28, 2014
Back in the 1990s, when Frank Duffy was one of the august handful of people popularising notions of a changing approach to office design, he categorised four models of the workplace that he foresaw would come to reflect the work done in them, namely the den, cell, hive and club. Back then, the word 'club' conjured up images of gentleman's clubs and Duffy himself described it in his 1997 book The New Office as 'essentially an ingenious early 19th Century device to allow the kind of people who are now called networkers to share as supportive an environment as possible', illustrating his point with an old coloured engraving of upright gents sitting around in a neo-classical, Victorian, smoke-filled room reading newspapers, sipping port and chewing the fat. Nowadays, the word club would appear to suggest something more along the lines of a youth club, as the latest pubescent design of a Google office shows us.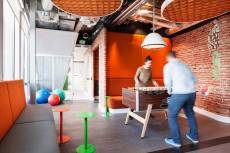 In many ways the kind of callow attempt evident in Google's new Amsterdam offices to present a money making behemoth as your wacky mate is far preferable to the blue-grey carpets, pale-grey worktops and glass partitioned meeting rooms that appears to be the default setting for offices (although these things can even be seen in the background of the Google offices). But it can also come across as a bit fun-dad, juvenile or – God help us – disingenuously zany, like David Brent pointing out to a visitor the Flat Eric he's brought into the office.
The games, graffitied brickwork, geographically quirky elements (in this case waffle-shaped acoustic baffles) and exposed ductwork are all predictable but so too, in its own way, is the use of an old caravan as a meeting room along with deckchairs and a barbecue placed outside on a patch of fake grass. It all seems a bit needy, especially in comparison with the combination of classicism and underplayed youthfulness in the offices of another tech company, Giant Pixel .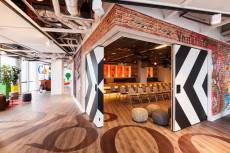 What such designs do give away is that this firm is part of an industry obsessed with youth to such a point that it must provide intelligent, educated 20-somethings (and up, although they're never pictured) with a working environment that has a teenage aesthetic. As the New York Times reported a couple of weeks ago, Silicon Valley and its global satellites have a big problem with both people's age and the appearance of age. The author of the article writes that: 'Silicon Valley fetishizes a particular type of engineer — young, male, awkward, unattached.'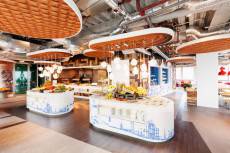 Of course, if you're not those things you must look as if you are and by extension you must also work in the right sort of building. You must never look like a middle-aged, mortgage paying drone who works in a bland corporate office for a company with a turnover of $60 billion and 48,000 employees and you certainly mustn't raise an increasingly bushy eyebrow at the idea of using a slide to get between floors of the building or holding a meeting more than once or twice in a knackered old caravan.