February 3, 2016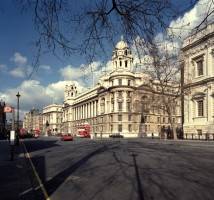 The UK Government has today published the latest edition of its annual State of the Estate report, which gives an update on plans to consolidate, divest and modernise the central government property portfolio. Minister for the Cabinet Office Matt Hancock claims that the current administration has reduced the size of the estate by 2.4 million sq. m. since 2010. (As is the way of these things, the minister claims this is equivalent to 336football pitches, 43 Shards or more than the entire principality of Monaco. Presumably individual departments measured their own successes in blue whales and double decker buses.)  He claims that this means that the total central government estate has fallen below 5,000 holdings for the first time and could fit inside the area of West Finchley (which is a new measurement on us). The reduction has been achieved by selling property ranging from the historic Old War Office (top) to an old bakery and lighthouse.
It was also formally announced today that Blythe House, which is known as the MI6 HQ in the award winning film Tinker Tailor Soldier Spy, and a historic site with at the Liverpool Docks will be sold and put to different use. This forms part of the 'government's determination' to save over £2 billion over the next 10 years by rationalising its office estate. It was also announced by the minister today that the government plans to reduce its total number of offices by 75 percent before 2023, moving from 800 to 200 offices.
Nowhere is this change more visible than in central London, where today's report confirmed that the number of government offices has fallen from 181 in 2010 to just 54 today. The intention is to further reduce this number to around 20 buildings by 2025.
Minister for the Cabinet Office and Paymaster General Matt Hancock said: "We have a laser focus on cutting the deficit, supporting growth and providing more houses. To that end, we're determined to release property the government no longer needs and get out of expensive rentals that aren't offering value for money. Today's report shows the progress we've made in creating a more modern and efficient estate, with £1.8 billion already saved for taxpayers. But there is still a lot more we can do. That's why I'm calling on people across the country to get involved by challenging us through the Right to Contest scheme to release properties we're not using efficiently enough."
The minister also revealed today that through the Housing and Planning Bill, local authorities would be required, for the first time, to report on their assets in a similar fashion. This will increase transparency by showing the public how they are rationalising their estates, with this helping councils deliver savings by making better use of empty buildings and freeing up brownfield sites to build more homes. This reporting includes a requirement to publish information on surplus assets that they have retained for longer than 2 years (6 months for housing) and to give a reason for doing so.
Today's State of the Estate report also shows that:
the size of the government estate fell by 300,000 square metres in the past year, with running costs also reduced by 9% (or £279 million) compared to the previous year
a saving of £842 million in 2014 to 2015 by selling empty buildings and exiting expensive rentals
the government has reduced the cost of running the estate by 28% since 2010
the space per government employee has reduced by 20% since 2010, making it more efficient than the UK private sector average of 10.7 square metres – this means that with an average space of 10.4 square metres, each employee has a working space equivalent to 10% of an average UK family home
a cut in carbon emissions by 22% since 2010, along with an 11% drop in water consumption and a 38% reduction in paper use
the size of the estate varies markedly by department – while the Cabinet Office's estate measures 100,000 square metres, the Department for Work and Pensions' estate measures 1,600,000 given the large number of job centres throughout the country