October 12, 2016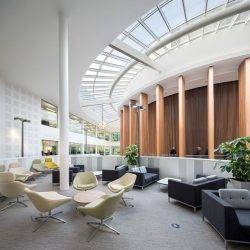 The UK Government has announced that it is to further extend its groundbreaking One Public Sector Estate scheme which supports local authorities and public sector bodies in the sharing and divestment of underutilised property. The Cabinet Office and Local Government Association have issued a joint announcement that 159 councils will join the next phase of the One Public Estate programme and that £7.5 million has been awarded to 37 partnerships made up of councils and public sector bodies. The funding will support cross public sector partnerships to work collaboratively on land and property initiatives leading to new jobs, new homes, joined up public services and savings for the taxpayer. The programme was initially launched in 2013 and has been extended to a number of local authorities and public sector bodies since
Now working with 50 percent of councils in England, One Public Estate is supporting collaborative property-led projects in local areas, delivering ambitious projects that transform local services. Its innovative approach in bringing central and local government together was recently recognised at the Estate Gazette Awards where One Public Estate and the Government Hubs Programme were joint winners of the Collaboration Award.
This latest development comes after the announcement at Autumn Statement 2015, in which One Public Estate was awarded £31 million to support even more partnerships to use their assets more effectively.
One Public Estate is a national programme jointly run by the Cabinet Office Government Property Unit and the Local Government Association (LGA). It supports joint working across central and local government to release land and property and boost economic growth, regeneration and integrated public services. It encourages public sector partners to share buildings, transform services, reduce running costs, and release surplus and under-used land for development. Partnerships joining the programme will receive funding and practical and technical support to unblock barriers and deliver ambitious transformational projects.
Under the scheme, the Government claims that existing members are set to deliver a rage of benefits over five years:
create 36,000 jobs
release land for 16,500 homes
raise £138 million in capital receipts from land and property sales
save £56 million in running cost savings
Ben Gummer, Minister for the Cabinet Office and Paymaster General, said: "Since its launch in 2013, One Public Estate has gone from strength to strength, supporting councils and their partners to deliver better services for local people. This funding will create important initiatives that integrate public services, boost local economies and deliver cost savings for local councils and taxpayers. My team are working closely with government departments to ensure that One Public Estate is helping to deliver government priorities such as health and social care integration and rationalisation of the defence estate. It is encouraging to see so many councils joining the programme and I look forward to seeing their success."
Lord Porter, Chairman of the Local Government Association, said:  "With half of councils across the country now taking part in the One Public Estate programme, local government is demonstrating real leadership in its communities, unlocking land to provide the homes and jobs that people need, helping services to work better together, and bringing in money while generating savings for the future. The extra money being made available for even more councils to join the programme will bring us closer to achieving our ambition to have all councils signed up by 2018, driving growth in their areas through the strong local leadership that we've already seen in the early phases of the programme."
A further application window for councils wishing to join One Public Estate will be open in April 2017. To find out more about the programme, contact onepublicestate@cabinetoffice.gov.uk.
Image: Derby Council Offices, courtesy of Costorphine + Wright