March 27, 2018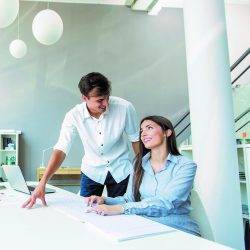 Over a fifth (21 percent) of 18-24 year olds admit that they have rejected a potential employer because of the poor design of the office or lack of amenities available, while 34 percent in the same age group would be willing to commute for a maximum of one hour each way to an office that is considered perfect – compared to 22 percent of 45-54 year olds. The research, commissioned by Mindspace, found that 16 percent of 18-24 year olds have actually left a job because of how poorly designed the office was in one of their previous roles. Overall, nearly a third (31 percent), of workers are bored with their current office environment and feel uninspired at work, with 28 percent of workers describing their place of work outdated and dull. The research also found that while most workers had access to amenities such as a kitchen (72 percent), meeting rooms (66 percent) and free tea & coffee (53 percent), what UK office workers desire the most to improve morale is more natural light, air conditioning and improved interior lighting.
Benefits and perks are also important for many UK millennials, with 26 percent of 25-34 year olds stating that a company's benefit packages (such as discounted massages and dog walkers) is one of the most important factors for them when considering an employer.
According to the research, UK workers visit the same workplace five days a week (82 percent) and work from the same desk in the office (80 percent), but they are feeling bored and uninspired by their working environments. This has a detrimental effect on their productivity and mental health, with many stating that they feel tired (24 percent) and stressed (20 percent).
While many companies in the UK have embraced open plan offices over the last few years, a significant number of office workers (46 percent) feel that there is either limited or no collaboration between different teams and departments in their office currently. Nearly one in five (19 percent) do not feel that their current office encourages them to collaborate with others but a quarter (25 percent) are desperate for break out areas, more spaces for private work (23 percent) and more creative brainstorming spaces (19 percent).
Dan Zakai, co-founder and CEO at Mindspace commented, 'Millennials are the future of the workforce and will constitute over 50 percent of the working population in the next few years. It's insightful to see that so many graduates and young workers are turning their back on potential employers because of the poor design of their office.
"While many young workers in the UK still value a good workplace culture and decent salary, employers need to start placing a much larger emphasis on the aesthetics of the office and fostering a more collaborative workspace in order to retain and attract the best young talent through their doors.'