February 21, 2013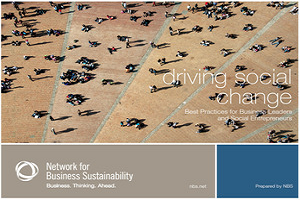 Businesses can play a key role in driving social change according to a groundbreaking new report. Whether through product labelling, supply chain management, employee volunteerism and partnerships with non-government organisations (NGOs), companies have the power to help people get active, eat healthy foods, use less energy and live more sustainable lives. Now a new guide based on a review of 123 studies from the last 20 years, released by the Network for Business Sustainability (NBS) provides the evidence for any business interested in cause marketing, social innovation or responsible consumption.
According to a research group based at the Richard Ivey School of Business, there are three components that companies can use to drive positive behaviour change.
These are:
1.  Motivation. People must have a reason to change.
2.  Ability. They must have the skills, confidence and knowledge required to change.
3.  Opportunity. They must have the resources, relationships and environmental conditions needed to change. All three conditions must be met for people to change their behaviour.
"There is no single body of work on business-driven social change: This report breaks new ground," says lead author Dr. Ute Stephan from the University of Sheffield's Management School. "By providing a framework for businesses to understand what and how to drive social change, this report offers the tools necessary for businesses to effectively achieve change."
The framework provides an overview of the 19 mechanisms companies can use to drive positive behaviour change (e.g. providing feedback and changing people's environment) and how change efforts should be managed.
Businesses are uniquely positioned to change people's behaviour in order to benefit society. Forward-thinking business leaders see that these social innovations can also add value to organizations by raising their profile, attracting new customers or identifying new markets or opportunities. This report is aimed at managers who want to spark positive change among people and organizations.
The Network for Business Sustainability is a Canadian not-for-profit organization that connects thousands of researchers and business leaders worldwide, with the goal of creating new, sustainable business models for the 21st century.
This report addressed one of the 2012 Top 10 Canadian business sustainability challenges identified by NBS's Leadership Council – an exclusive group of 18 Canadian organizations recognized for their leadership and commitment to business sustainability.