September 26, 2017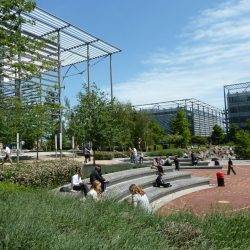 The UK commercial property market will be transformed over the next few years as a growing number of firms use their workplaces to address the physical and mental wellbeing of staff, claims a new report from law firm CMS. The report, Smart Healthy Agile, is based around the findings of a survey of 1,000 office workers and 350 real estate firms. It claims that the most common problems associated with office life and sedentary lifestyles, such as weight gain, stress, depression and musculoskeletal disorders are encouraging employers to adopt a different approach to working culture and office design.
Key findings include:
96 percent of real estate professionals and 86 percent of office workers believe the office has a significant impact on their physical and mental well-being.
86 percent of office workers say work-life balance, including the ability to work in an agile way is most important factor when choosing who they work for.
79 percent of real estate professionals see WELL building certification as attractive to occupiers.
82 percent of office workers found working in co-working or flexible space appealing.
94 percent of real estate professionals expect the demand for co-working space to increase.
89 percent believe that adopting co-working spaces will become a component of real estate strategies for large companies in the next five years.
Ciaran Carvalho, head of real estate at CMS UK, said: "Accelerating change in the workplace is also increasing pressure on offices. Technology and changing attitudes, partly driven by the growing millennial cohort, are transforming the very nature of work. What is more, the 'war for talent' coupled with concerns about the mental and physical health of today's employees is bringing into sharper focus the role the office environment plays. The lines between home, leisure and workplace are blurring."
Image: Chiswick Park Enjoy-Work