January 21, 2022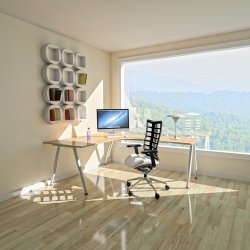 Companies are unprepared for the structural shift to flexible working and must do more to create responsible, personalised and experiential workplaces, a new report from JLL suggests. Intensive experimentation and piloting are needed to achieve flexible working models that will deliver a unique workplace experience for all. The JLL research claims that globally organisations are looking to continue flexibility for where and when people work with 82 percent expecting employees to work remotely into the future at least part of the time – spending on average two days every week away from the office. Yet 48  percent of organisations in Europe Middle East and Africa (EMEA) still have not developed a future of work programme to meet the rising demands and expectations of their staff for greater work flexibility, exceptional and sustainable workplaces and increased wellbeing.
With the global talent shortage showing no sign of slowing, companies slow to integrate flexible working models risk missing out on skilled workers. 88 percent of the workforce now want to choose their working hours in the future. Flexible and agile workplace structures that empower remote, hybrid and cross-border teams will help ensure companies compete and retain talent in today's tight labour market.
Organisations will also have to calculate the right level of technology investment as we move to a hybrid model. The imperative will be to keep people connected, whether they are working in the office or at home, and to create that sense of connectivity.
Turning climate talk into climate action
Translating sustainability targets into credible action plans will drive real impact from real estate in 2022 and there can be no excuses for any delay in meaningful action. Over 80 percent of occupiers say the link between corporate real estate and sustainability is now a board-level agenda item. Demonstrating responsibility and tangible social impact is also increasingly important to corporate strategy with 82 percent of occupiers expecting that employees will demand green, sustainable places.
Despite seeing value in driving down carbon emissions and accelerating the race to net zero, JLL says the action plans of many occupiers are still in nascency, with 43  percent reporting they are only in the early stages of defining what they are going to do. Worse still, another 9  percent are not sure where to start.
Placing employee experience and wellbeing at the forefront of the future workplace
Organisations were stepping up their focus on health and wellbeing before the pandemic, but employee wellness should now be on the roadmap of every company. JLL's Perspectives for Enterprises report shows that employees expect organisations to have a more supportive environment ready for them when they do go into the office.
As the pandemic has rolled by, employees have found the ability to integrate wellbeing into their daily routines. And they want to migrate this experience to the workplace in a post-Covid world. JLL found that 73 percent of the workforce want an organisation to promote healthy lifestyles and wellbeing.
Nearly half of employees (45 percent) want relaxation spaces in the workplace, above outdoor spaces, fitness centres and on-site clinics. But there is a gap between expectations and the services on office. Only 17 percent have access to such a service in their current workplace.
Image by Arek Socha