July 24, 2020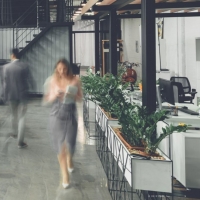 As employers have been given the green light to encourage staff to return to the office should they want to, new research from Hays claims over half (55 percent) of employers predict staff will transition to a new era of predominantly flexible working in six months' time.
In a survey of over 13,500 professionals and employers, over half (59 percent) of organisations say staff are already returning to work in the office, with more employers in the North East (72 percent) and the North West (68 percent) saying staff are returning compared to just 44 percent in Greater London.
Most organisations (44 percent) have returned to the office using split shifts, whereby teams alternate the days they work in the office and at home or work one week at home and one in the workplace. Other measures taken by organisations are a voluntary return (39 percent) and staggered hours, where team members start and finish at different hours to avoid peak travel times (33 percent).
Despite a number of organisations announcing staff can work remotely for the foreseeable future, only 3 percent of employers expect their workforce to be fully remote in 6 months' time and only 11 percent of employees would like to still be working fully remotely at that time.
Different attitudes
Alongside employers, 51 percent of staff would like to be working in a 'hybrid' model in six months' time. Fewer than a quarter (22 percent) wish to be based fully in the workplace. Preference differs across generations, as over a third (34 percent) of Gen Z (born after 1995) would prefer to be working in the office full time, compared to just 21 percent of Gen X (1961 – 1982) and Gen Y(1983 – 1995).
Differences also occur across regions with those working in London indicating they haven't missed their commute, with only 16 percent wanting to be based in the office full time in six months and the majority (58 percent) stating they would prefer to do part-remote and part-office working.
Almost three in five (55 percent) employers are planning to change their flexible working policies to accommodate this shift, a third (32 percent) are retaining communication and collaboration tools installed during lockdown, and 30 percent plan to reduce their office space.