June 12, 2020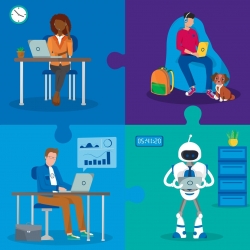 The role played by HR teams during the Coronavirus crisis has thrust the function into the spotlight and demonstrated the importance of an effective people strategy. That's according to new research from Personio, which also finds that HR teams are eager to maintain a more influential and strategic role in the future. And with half (51 percent) of managers claiming that the function cannot continue as it did prior to the outbreak, it's clear the pandemic has only accelerated the profession's ongoing evolution.
The research – which surveyed 500 HR managers across the UK – suggests the extent to which the function has helped organisations respond to lockdown regulations and navigate this difficult period. Eight out of ten (79 percent) respondents say HR has been integral to helping the business successfully adapt to the new normal, while nine out of ten (91 percent) rated the function's response as 'good' or 'very good'.
Although two thirds (66 percent) of HR managers surveyed say they dealt with a much higher administrative burden during the lockdown, they also delivered critical strategic value and broke down silos between the profession and senior teams. Overall 71 percent of respondents believe HR has added strategic value to the business during the pandemic – with the same number saying the HR function has been more closely involved at board / senior team level during the outbreak.
An evolving role
The findings suggest that HR managers are ready to evolve their role. According to the research, 80 percent of HR managers agree that it's important to maintain the strategic role the discipline played during the outbreak. Meanwhile a third believe it's vital the function becomes more strategic (33 percent) as well as more agile and flexible (33 percent) to stay ahead going forward.
Additional claims from the research include:
Since the Coronavirus outbreak started:
64 percent have furloughed team members
20 percent have undertaken redundancies
42 percent have decreased salaries in some or all parts of the business
34 percent have removed bonuses
58 percent have reduced operating budgets
The top four steps HR has implemented to help the organisations respond to coronavirus:
1. Support for remote working / WFH – 66 percent
2. Increased internal communication – 53 percent
3. Implemented additional mental health / wellbeing initiatives – 44 percent
4. Provided extra support for parents – 37 percent