June 11, 2020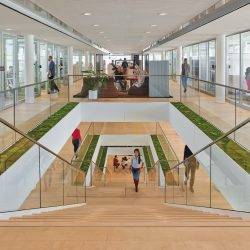 As the global community navigates the Coronavirus crisis, the nature of the workplace will be more important than ever. We have been working remotely on an unprecedented scale, and the benefits are clear – flexibility, time with family, and reduced commuting as a start. In some form, working from home is here to stay, even as returning to the physical office becomes possible. However, we have also discovered the limitations to remote working. While teams have been able to stay connected virtually, this cannot substitute for face-to-face collaboration, which is essential to fostering innovation.
Work is an inherently social activity, and the array of in person interactions we rely on can be difficult, or even impossible, to facilitate remotely. The post-COVID workplace must be reinvented to fulfil these needs, without compromising the health and safety of employees.
Although many will be craving a return to normal, going back to a pre-COVID workplace may not be possible – and, equally, may not be desirable. At this crucial juncture, we have the power and opportunity to reshape the workplace for the better, bringing offices into the future. While imminent, this change cannot be instant, but instead will happen in stages: Now, Near, and Far. With each of these phases, it is vital that we make offices of the future as safe as possible: well-designed and resilient for the challenges we may face.
Responding in the now
The immediate priority for many businesses, universities and health organisations is to bring people back to work as quickly and safely as possible. Not only do spaces need to meet health guidelines, but they also need to be designed to help individuals feel safe at work. To accomplish this, organisations will be – and, indeed, already are – retrofitting their workplace with what they have today, moving desks apart and adding barriers, to keep the first wave of returning workers safe.
Distancing will be possible due to the abundance of space per employee
Employees in this first wave may amount to 50% of the workforce, with the rest continuing to work from home. Distancing will be possible due to the abundance of space per employee. Many businesses will look to institute new policies around cleaning – especially cleaning shared spaces. While hotdesking throughout the day is unlikely to resume anytime soon, these desks may still be occupied by different employees from one day to the next, with an established "clean in, clean out" policy to ensure the safety of users.
Office geometry will have an entirely new look. The standard linear rows of desks and chairs that many of us are familiar with make physical distancing difficult, so a new approach is needed. Simply by rotating desks ninety degrees, we can ensure that employees are facing in different directions, thus restricting the possibility for transmission. Workplaces will also introduce separation elements: physical barriers that ensure health standards are met even when the minimum distance between employees cannot be maintained. Screens and panels will divide up spaces – the higher, wider, and more easily cleaned, the better.
Planning for the future
As the first wave of workers adjust, and we begin to discover pitfalls and practicalities, organisations can start implementing changes to reconfigure the workplace. More employees will start to return, and office adaptations will begin to feel more natural. Travel is likely to remain restricted, so businesses will need to integrate videoconferencing and virtual participation into the physical workplace.
Having learnt from periods of remote working, many organisations will be empowered to make decisions about their use of real estate
A key component of this reconfiguring phase is adaptability. While flexible furniture has always been important to allow individuals to make the most of their spaces, it is now essential to ensure that workplaces can adapt to unexpected future disruptions. Being able to move furniture easily and access mobile power will facilitate increases and decreases in physical distancing, depending on what the circumstance calls for. When individuals aren't tethered to workstations for dependable power sources, they will be able to spread out further to more open areas, reducing workplace density, restricting the transmission of illnesses, and even improving productivity.
Having learnt from periods of remote working, many organisations will be empowered to make decisions about their use of real estate. Maintaining increased work from home will allow businesses to reduce density in the workplace, while a rise in virtual meeting attendance could decrease the need for large meeting rooms. These changes could allow employers to give individuals the option of a dedicated workspace if they don't feel comfortable sharing with others.
The opportunity to reinvent
Further into the future, there will be an urgency not just to get back to where we were, but to move forward, be resilient, and thrive. We have veered away from the status quo during this pandemic and have had to adapt to new situations at lightning speed. Although we may want to leave behind the unpredictability and insecurity of our current way of working, we should try to maintain a culture of versatility and reinvention.
Offices should provide a range of diverse places and experiences: creating "social infrastructure"
Fluidity and flexibility will be at the centre of workplace design, empowering employees to move seamlessly between different modes of work with flexible furniture and power, enhanced virtual participation, and the tools to respond quickly to potential disruptions. Facilitating connections between those in the office and remote employees will allow for seamless collaboration. This extends beyond focused work and formal meetings.
For social interactions, offices should provide a range of diverse places and experiences: creating "social infrastructure" to allow individuals to make connections and build trust. Levels of engagement and wellbeing, in turn, are heightened, and employees feel a renewed sense of community.
As we reinvent the workplace, science-based solutions will integrate with emerging technology to deliver employee safety and an even higher level of employee wellbeing. Hands-free solutions will limit potential for the transmission of viruses and help to make solutions more inclusive than ever, enabling individuals to adapt their workstations through gestures and voice-activated commands. Introducing sensors could improve measurements of wellbeing, including monitoring behaviours that indicate illness. The office will also be designed with preventative measures in mind, including adopting new materials – pure or engineered – that allow for cleaning and disinfection without degrading over time.
A chance to learn and grow
The huge, unprecedented need to work remotely during the coronavirus pandemic has posed far-reaching challenges for organisations across the world. As we start to think about returning to the physical office, businesses will be faced with an entirely new set of challenges. In the now, the near, and the far, organisations will have to adapt their workplaces to meet the needs of a returning workforce and the vital health guidelines as they continue to develop.
However, this challenge is not without reward. If businesses can capitalise on the opportunity to bring their offices into the future, workplaces will become better than ever – adaptable, resilient, and inclusive. Organisations that can do this well, retaining a people-centric view of the workplace, will empower their employees to feel engaged and thrive, which in turn drives innovation and competition.