September 27, 2023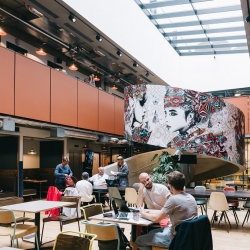 Over half of UK landlords are planning to independently develop an offering for the growing flexible working market across their portfolios, according to the annual report on the flexible workspace sector by The Instant Group. The 2023 UK State of the Flex Market report [registration] polled more than 200 flex operators and landlords for insights into the sector. Findings also suggest that two-thirds (61 percent) of flex operators intend to increase their footprint in the next two years, while market imbalances in regional hubs, enduring occupancy rates, and surging demand for sustainable buildings all featured prominently in the report.
Drawing on information from  The Instant Group's internal database, the report notes that flexible workspace demand in the UK is yet to fully recover post-Covid, remaining at 11 percent below pre-pandemic levels throughout the end of this year. Rising OpEx costs are the leading challenge for the industry right now. However, 78 percent of landlords have seen an increase in demand for flex over the past year, and the report forecasts 18 percent growth over the next two years. Demand is expected to reach record levels by 2025 with over 50m sq ft of new flexible space being sought.
Forecasted demand for flexible space highlights an imbalance in markets across the UK. A shift in occupancy from traditional to flex by as little as 10 percent would require up to five times more available flexible space to accommodate such demand, creating an opportunity in those markets for expanding operators and landlords.
London, which remains the epicentre of the industry, continues to see focus and investment despite slower demand recovery. Declining rates present an added challenge to operators but, in the short term, make the market more accessible and drive new demand among occupiers looking to reduce costs within real estate. Not all rates are declining, however, with premium providers seeming able to maintain, or even increase, their current rates.
Occupancy rates remain stable at 82 percent across the UK. Amenities and services are increasingly identified by those purchasing office space as priorities to retain and attract new employees. This has resulted in an 18 percent increase – the largest globally – in searches for specific amenities when undertaking an office-selection journey.
Sustainability is also a considerable focus of the report, with the research demonstrating a growing awareness and engagement in sustainability among workspace providers, who are at the same time also challenged by cost barriers and a shifting landscape. With more corporate clients committing to net zero targets, alongside increasing regulation and traditional leased office space creating 158 percent more emissions per occupier than flex space, the move to flex will be a clear choice for occupiers. Sustainability may ultimately be a key driver for flex adoption.
James Rankin, Head of Research and Insights at the Instant Group, said: "With half of UK landlords planning to independently add more flex space to the market, flexibility continues to sit at the heart of the office sector. Despite this positivity, we are seeing both short-term and longer-term macroeconomic factors impacting market conditions, and the supply side of the market is feeling the pressure. To counter these headwinds, our research shows that the supply and demand imbalances across the market present a clear opportunity for investment and growth. Adopting a data-focussed approach to gain visibility into local market dynamics such as supply, demand, occupancy and transaction rates, will enable operators, landlords and investors to both identify the highest potential assets and fine-tune existing asset performance."