January 20, 2019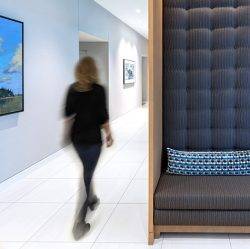 HOK's WorkPlace group has released The New Insurance Workplace (registration required), a report which sets out to examine the forces reshaping the insurance industry and how workplace design can position these companies for success. The report's concludes that insurance firms take pride in their conservative approach to risk management and traditional business models. They also have high-performance cultures that demand strong results. Yet changing regulations, emerging technologies and increasingly obsolete work processes have left many legacy players with underutilised, outdated office and retail space that hinders their ability to meet the fast-changing expectations of customers.
In this new world many companies are rethinking how their workplace can contribute to their business success, according to the report's authors. Firms want the work environment to convey the company's brand while aligning with their organisational structure, work processes, technology and HR policies. When it does, the workplace can significantly boost the effectiveness of their people while cutting costs.
The investigation into the evolution of the insurance workplace includes a look at amenities, mobility, trends in call and contact centers, Activity-Based Workplaces, Neighborhood-Based Choice Environments and Space as a Service. Also included are key takeaways from HOK's global workplace survey of corporate real estate executives in the insurance sector. The survey showed that more than 70 percent of participants have deployed workplace standards or guidelines across their portfolio. One hundred percent of the respondents report incorporating some type of free-address, unassigned space.
Case studies of workplace projects for leading insurance companies—including Sun Life Financial (pictured), Horizon Blue Cross Blue Shield of New Jersey and Goosehead Insurance—provide insight into current best practices.