August 21, 2014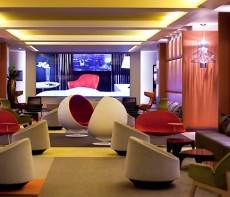 Presenteeism isn't restricted to the workplace. Growing demand from business travellers means hotels are increasing the amount of working and meeting space they provide in their facilities in cities across Europe and the rest of the world. Three quarters of British employees work while staying in a hotel according to the survey carried out by the Fraunhofer Institute on behalf of hotel business solutions firm HRS. Only Italians spend more time working in hotels (76 percent), followed the UK (75 percent), Poland and Switzerland (50 percent respectively), Germany (46 percent), China (45 percent), Russia (43 percent), Austria (42 percent) and France (25 percent). The firm has also identified a number of hotels around the world which it believes offers exemplars of the new working spaces available.
Jon West, Managing Director of HRS, commented: "Business travellers are always on the move and need to find time to catch up on their work or with colleagues.  In order to meet this need, we are seeing that more hotels are starting to introduce 'co-working' spaces into their public areas to create pleasant working environments within their lobbies. Using open space to meet the needs of the guests, hotels are starting to offer open areas that are equipped with technical features such as mains connections, docking stations and Wi-Fi. Business travellers can also benefit from being able to meet other guests on a business level, as local freelancers or creative are more likely to use these spaces as a temporary workspace. This means that hotel owners also profit from additional revenues should the business traveller take advantage of its food and drink offering for example whilst working."
The report also offers a selection of ten hotels in international business destinations that are working to meet the needs of business travellers looking for working spaces (presumably HRS clients):
Marriott, Amsterdam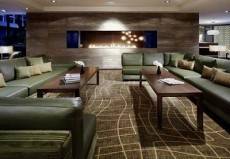 One of the original hotel chains, Marriott has actively dealt with the topic of co-working spaces, and together with "Travel Brilliantly", has developed a new concept for conference and meeting areas, where focus is on jointly usable, dynamic, and innovative workspaces. At the Marriott Amsterdam, the spacious hotel lobby boasts noble design, flexible seating for single persons or groups, as well as modern communication technologies. Furthermore, modern meeting rooms that have been specifically created for co-working feature videoconference systems, white boards, and docking stations—everything is controllable via apps and touch screens.
Hotel Westin Grand, Munich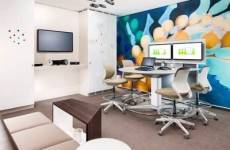 The Westin hotel chain presents a new profile with the workspace concept "Westin Tangent". The Munich 5-star hotel responds to the needs of mobile business travellers, and offers an interactive space for the fluent exchange of information – without cables and with free Internet access. Here, guests decide whether they work in the expansive lobby or book smart, individually equipped meeting rooms for small groups. These state-of-the-art facilities come with white boards, and videoconference- and sound-systems.
Hilton Canary Wharf, London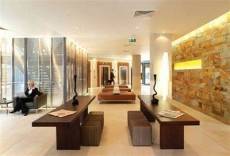 The modern business traveller finds his personal space – right in the heart of London's business district Canary Wharf. Business floor, conference rooms, or co-working in the newly designed business lobby, the 4-star Hilton in the British metropolis makes performing business tasks in a relaxed ambience easy – thanks to a skilful mix of elegance, modern technologies, and clever floor plans.
Hotel Central, Brussels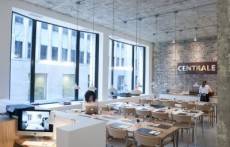 With its spacious, openly designed co-working area, this modern hotel right by the Brussels Central Station offers a mixture of home and office. The combination of design elements, wooden details, and clinker bricks creates a wonderful atmosphere and a fitting meeting place. Work is done either on long tables or in fully equipped office alcoves. Wi-Fi is complimentary around the clock for all users.
Hotel Shangri-La China World Summit Wing, Beijing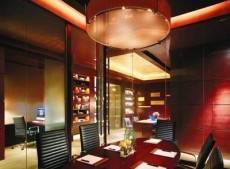 Asia has also been infected with the co-working trend. A quite special variation of co-working can be found in the Hotel Shangri-La China World Summit Wing in Beijing. Equipped with computers and leather armchairs, numerous workspaces in the lobby invite guests to work in style, and in company. Furthermore, guests benefit from 716 comfortable business rooms, state-of-the-art conference facilities, and Wi-Fi throughout the hotel.
The Flag, Zurich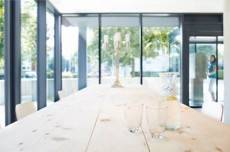 A large wooden table for up to 20 persons is the centrepiece of the light-flooded lobby of the Zurich apartment hotel The Flag. Here, co-working is done in its most original form. Modern equipment and technical highlights, such as integrated USB interfaces, offer added value to any business traveller.
Lindner Congress Hotel, Frankfurt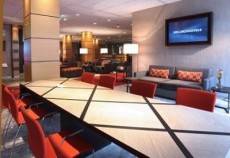 What first started as a trial quickly became a standard. The large work desk in the lobby of the Lindner Congress Hotel Frankfurt has become the meeting point for work in an informal atmosphere. A power outlet in the desk and a flatscreen on the wall, where presentations can be displayed, offer the perfect spot for interactive co-working or for group talks during events and conferences.
Ace Hotel, New York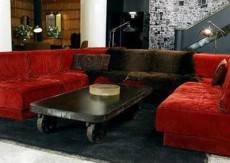 A trendy alternative office amidst New York's hotel landscape: In close vicinity to the Broadway, the Ace Hotel is the meeting point of tech-savvy entrepreneurs that get their inspiration from the hustle and bustle around them. Modern design meets an air of vintage in the hotel lobby, where long wooden tables with comfortable suede couches are perfectly matched with retro-style banker lamps. The adjacent bar ensures a never-ending supply of caffeine and serves cocktails even at lunchtime. Using the lobby is free of charge, not only for hotel guests but also for locals. If necessary, separate conference rooms can be booked for meetings.
Pullman, Paris Montparnasse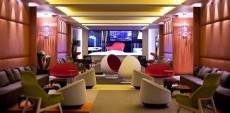 The design hotel Pullmann Paris Montparnasse is focussed on the needs of today's business travellers. It boasts modern communications technologies and sophisticated details. Complimentary Wi-Fi and accessible power outlets throughout the hotel are at the guests' disposal. Co-working in style is made possible in the futuristic lobby, in the Connectivity Lounge, and even at the bar. Therefore, the design of the bar area respects good lighting conditions, so working alone or in company is pleasant.
Radisson Blu Hotel, Istanbul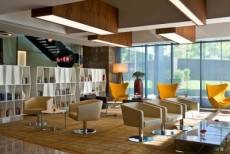 Designed by Sinan Kafadar, one of Turkey's most renowned architects, the hotel in the financial district welcomes you into a modern, contemporary atmosphere. The expansive hotel lobby with groups of couches and armchairs offers space for work or informal get-togethers. An openly designed library with plenty of power outlets and computer alcoves makes another popular place where to hold business meetings. Those preferring working outdoors, can use the terrace, since complimentary Wi-Fi is available outside the hotel's premises.