September 1, 2014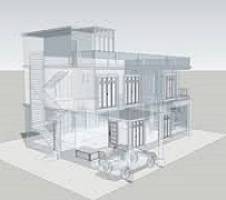 A new report by an influential group of young construction professionals has been published today which illustrates the need for organisations to consider new skills, new processes and develop strategies around emerging technologies that will ensure that the UK stays ahead in embracing the digital construction future. The report by the BIM2050 Group, comprises a compilation of essays authored by BIM2050 work stream leads, and focuses on three key areas; education and skill; technology and process; and the culture of integration. Built Environment 2050: A report on our digital future, highlights the risks and challenges and the opportunities and benefits that come with large scale innovation and game-changing new technologies. Commented Graham Watts OBE, CIC Chief Executive: "It is an important discussion document of ideas and concepts that will, I hope, spark debate in the wider construction community."
The report is intended to help readers envisage what a digitally integrated future could look like; to enable them to shape the opportunity and avoid the risks of doing nothing.
It states: "Ultimately, it is hoped that it could become a framework for industry to create a pathway to future, more desirable outcomes. Hopefully we might even create a new innovative industry, whilst turning the traditional social image of construction on its head!"
The BIM2050 group comprises 18 young construction professionals from all areas of the industry and was formed in September 2012 by the Construction Industry Council (CIC)to  work  in  partnership with the Government's UKBIM Task Group to help develop a range of government initiatives, which have included the BIM regional hubs and the specialist BIM4 groups, to ensure industry-wide awareness of BIM, in preparation for implementation of the government's mandate for BIM Level 2 on all publicly funded building and infrastructure projects by 2016.
Click here to download the report.