July 10, 2017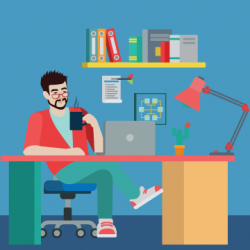 While most workers favour full time employment, significant numbers of people would consider gig work and other flexible options such as zero hours contracts, according to a PwC survey of more than 2,000 UK adults. But key concerns remain job security, the ability to earn sufficient income and losing out on workplace benefits. The findings come ahead of the much anticipated Taylor Review into Modern Employment practices, expected this week. While 77 percent of the people surveyed prefer full time employment, 45 percent of the respondents would consider gig work (defined as short-term, casual work, typically organised or facilitated via mobile phone apps) or already work in this way. This number would rise if employment rights improved significantly, with two in five people saying it would make them more likely to take up gig work. Flexible options are most popular with 'millennials' – some 58 percent of 18-34 yr olds would consider taking gig work compared with 30 percent of those over 55. Likewise, while zero hours contracts would be considered by 35 percent of respondents overall, 45 percent of millennials say they would take a zero hours contract., falling to  just 24 percent of over 55s.
The main reasons for considering this type of work is the flexibility to fit around lifestyles, although 34 percent of respondents admit they would consider zero hours contracts more as a last resort. The biggest concern is not being able to generate sufficient income, followed by fears over job security.  The lack of benefits, including holiday and sick pay, are other key concern.
Julian Sansum, employment partner at PwC, said: "A flexible labour force is one of the UK's strengths, and key to driving competitiveness and productivity. But it needs to be a win-win for both employers and workers. Our research shows that while many workers are open to the idea of gig working, for many their concerns over job security and being able to generate sufficient income still outweigh the benefits this type of work can offer. A balance needs to be struck between promoting flexibility and ensuring employees have sufficient employment rights and protections. In order for gig working to prosper, we need a tax system that is simple, workable, efficient and does not lead to distortions. Offering education and training alongside increased workers rights will be vital to ensure that people are able to move easily between different roles and that no one gets left behind as the job market evolves."
Over a third (36 percent) of those surveyed say they would be more likely to become self employed if tax were the only factor. Again, over a third (34 percent) of self-employed respondents currently find administering their taxes a significant burden. Likewise, 73 percent workers say if they were on a zero hours contract they would request fixed hours from their employer if given the option.