November 25, 2022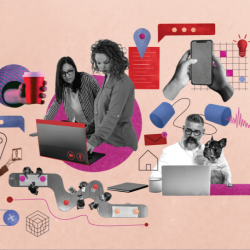 One of the many important talking points of The Great Workplace Conversation and the widespread adoption of hybrid working over the past three years has been how we talk about change. Whenever anybody refers to people 'returning to work', they can expect to be corrected by somebody else pointing out that most people never stopped working during the various lockdowns. They'd stopped going into work. In the same way, people are increasingly likely to point out that the office and the workplace are often two different things. Words matter. Precision matters. Shared ideas matter. Engagement matters.
And they especially matter when it comes to communicating change to an increasingly diverse and dispersed workforce.
That is why so many organisations are now placing so much emphasis on their internal communications. It is an essential part of change management. It is taking place when the times and place of work are changing more than at any time in history. And when we have more and better technology to apply in comms strategies.
The issues surrounding communications for hybrid working cultures are set out in a new magazine supplement published in partnership with Magenta. We explore the specific challenges firms now face and the ways in which they can meet them to create a cohesive working culture and ensure everybody is engaged and aware.