April 10, 2019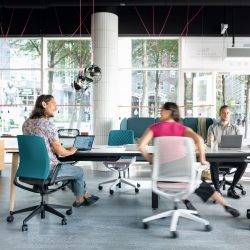 Sedus designers and engineers have created the new se:motion, a swivel chair that works without conventional mechanics and makes ergonomic and agile work affordable to everyone. The chair marks a paradigm shift in the way chairs are designed specifically to meet the changing needs of people in the workplace.
Terms such as work 2.0, co-working, and smart office have been hitting the headlines as the traditional office environment continues to change and evolve. New workplace concepts and ways of working are needed, and these demand a rethink of everything from space design to new office furniture products.
The classic office swivel chair, assigned to one fixed workstation, is no longer ideal for many new work environments. Young people in co-working spaces and agile teams without permanently assigned workspaces require simple, flexible, and smart solutions.
The new office swivel chair is designed to adapt to its user – not the other way around
Sedus has taken this task on board and offered a new approach to sitting with its star project, se:motion. The new office swivel chair is designed to adapt to its user – not the other way around. Time-wasting adjustments are now a thing of the past, as the chair automatically adapts to the user. The smart design of the new kinematics converts the force of the user's weight on the chair into the optimum pressure for the backrest. Put simply: sit down and feel great.
The innovative geometry of se:motion is not just a smart design from a technical standpoint, deflecting force via a spring energy accumulator. It also makes a real design statement, which gives the product its lightness. Being able to achieve freedom of movement without the use of conventional seating mechanism significantly reduces the amount of material required to make it.
Even the model without padding provides perfect support through its ergonomic design. Meanwhile, the optional upholstery for the backrest and seat are designed with sustainability in mind, and are very easy to swap out or replace by hand. That means the user can easily change the look and feel of the se:motion to ideally match the interior design at work.