June 19, 2023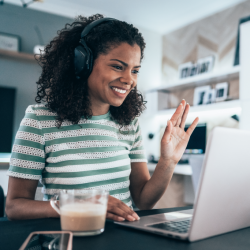 Company culture is one of the most fundamentally important facets of the modern workplace. In the last year, it has been identified as an important factor for 46 percent of job seekers, while 88 percent found it at least relatively important, and 15 percent of job seekers have declined a job because of the company's culture. Due to the wide breadth of employees in large global companies, everything from time zones and language barriers to country culture and local business norms can create sticking points. For professionals at corporate headquarters responsible.
A core tenet to building global company culture is understanding who makes up your employee base. When working globally, you may have several different audiences, each with its unique local culture. There will be differences, ranging from the internal platforms they prefer to appropriate office etiquette. Understanding these nuances can help foster communication across global teams.
A simple way to get started and to build understanding is by asking questions. And asking the right questions in the right way makes all the difference. By asking questions with empathy and digging into the ins and outs of what your different employees care about, you'll uncover gems that will unlock engagement and inspire employees to act. Empathy training for managers can facilitate the conversations needed to draw out these insights and gain a holistic understanding of your company's sub-cultures.
Customise
To shift understanding to action, internal communicators need to create space for region or country-led culture development. You can encourage these initiatives by sharing corporate frameworks with templates and resources for each region to develop and implement in their own ways. Having a consistent framework will allow you to collect and amplify those local stories for a global audience with a cohesive narrative. Embracing this grassroots approach can help individual regions express their own unique cultures while also supporting and deepening the overall company culture.
Of course, there are non-negotiables of culture that also require nuanced understanding. Taking into account local holidays and traditions is a good first step, but to dig deeper, tapping local communications leaders from around the globe and engaging in transparent discussions about the dos and don'ts in a given region can prevent unnecessary mistakes. Having a diverse team review global communications, including content and timing, is another strongly recommended best practice.
Only connect
Finally, uniting your company globally under one mission requires connection and celebration. Host global moments where people can come together, celebrate wins and learn from each other. These global moments can happen consistently and reliably through virtual all-hands events with executive presence, but can also manifest in unique and surprising ways, with the goal being to create a space where employees can see themselves in the company's progress and get excited about the future.
In any form, these moments should:
Feature waypoints for the future and the progress already made toward company goals.
Keep the timing of these meetings flexible to accommodate time zone differences.
Include breakout sessions of smaller groups where employees can meet and discuss their experiences.
Highlight unique employee stories and global speakers!
At the end of the day, business leadership sets the stage for culture, which comes to life in the hands of employees and local leaders. It's a common saying that "culture eats strategy for breakfast," and if you look at the data, it agrees! Ensuring your global team is aligned under one company mission is no easy task, but with the right approach, companies can thrive in cross-cultural environments.
Sara Whitman is Chief People Officer and Isabel Conrad is Internal Communications Specialist at Hot Paper Lantern.