March 11, 2021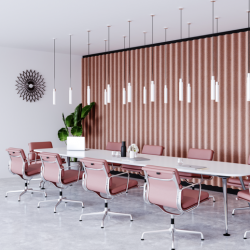 Swell is a lightweight, acoustic wall cladding solution with a height of 2.7m offering a unique design solution without horizontal seams.
Reminiscent of a wave, Swell introduces a tactile softness into the workplace interior indicative of loose curtaining, offering a timeless wall finish with both acoustic and environmental properties. Available in 2.7m high and 900cm wide panels, Swell is available in 31 trend-driven colours, with the option for custom-colour with orders over 250 panels. The panels are demountable for easy wall access with a lead-time of 4 – 6 weeks.
'We are thrilled to launch SWELL, the first product from our newly launched division 'The Collective – Editions', says Steve Lewis, Co-founder of The Collective Agency. 'Swell has evolved from our deep understanding and awareness of market needs, and illustrates our key brand pillars for 'The Collective – Editions'; namely to create market-led sustainable solutions designed and made in the UK.'
SWELL is made from 12mm EchoPanel by Woven Image, the original decorative interior panelling solution using acoustic qualities and eco-innovation. Made from 60 percent recycled PET bottles, SWELL offers low VOC and meets Environmental certificate ISO14001. In addition, for every 1000 sheets of EchoPanel manufactured, approximately 4.2 tonnes of post-consumer waste PET is diverted from landfill or our oceans. To date, over 230 million plastic bottles have been repurposed to produce EchoPanel products.